As part of our series of Frequently Asked Questions we help you understand the phenomenon of Ironman. The answers have been collated from our panel of Ironman triathletes in Trivelo based on over 5 decades of collective expertise. Learn more in Ironman Triathlon FAQs.
---
>>> Top 5 Triathlon Saddles: Buyers Guide
---
Ironman Kona FAQs
Question: How do you qualify for Ironman Kona?
Answer: There are 2,000 places available in Kona Ironman. Every official Ironman event worldwide offers qualifying places depending on your finishing position. These are a minimum of one place per age group for the world championship.
Question: How do you race at Kona without qualifying?
Answer: There are a number of ways to race at Kona without going through the qualification process.
The Ironman Legacy program awards 200 places to athletes who have competed in at least 12 full Ironmans.
Enter the Ironman Foundation draw for $50 that awards places based on a purely lottery basis open to all.
Bid for a place in the Ironman Foundation auction where there are places available that you can "buy" through an auction style bidding process.
---
>>> 9 of the best triathlon bikes 2020: Ultimate Kona bikes
---
Ironman Nutrition FAQs
Question: How many calories do you burn when completing an Ironman triathlon?
Answer: The answer is very much dependent on your body type, gender, size and weight. Completing an Ironman with burn between 7,000 and 12,000 calories depending on body type meaning a nutrition plan is essential.
Ironman Triathlon Finishing Times FAQs
Question: What is the best time for an Ironman triathlon?
Answer: The fastest time for an Ironman is Tim Don's epic time of 7:40:23 racing in the Ironman South American Championship in Florianopolis, Brazil. The record time was completed with a 44 min 16 secs swim, 4 hrs 6 mins 56 secs bike split and 2 hours 44 mins 46 secs marathon run.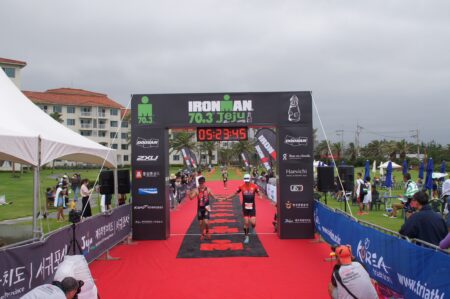 Question: How long does it take the average person to complete an Ironman?
Answer: With Ironman such an extreme physical achievement it is hard to give a view on an "average" person. From 2019 results the median time for Ironman Kona was 10 hours 45 mins but Kona requires qualification so far from an average person. Perhaps a more fair answer would be the median time from a qualifier race, Ironman UK that was a median time of 14 hours 52 mins in 2019.
Question: What are the cut off times for each part of an Ironman?
Answer: Course cut off times vary depending on the race but the following times for Ironman Kona are common for many of the global races. Ironman Kona has an official total cut off time of 17 hours. The cut-off time for the swim is 2 hours and 20 minutes. The cut-off time for the bike segment is 10 hours and 30 minutes after your wave start time. The cut-off time for the run is 17 hours after your start time.
---
>>> 3 of the best alternatives to the Garmin 945 watch
---
Ironman Triathlon Training FAQs
Question: How many hours a week do you need to train for an Ironman?
Answer: Professional triathletes will train more than 40 hours per week but this does not mean amateur triathletes need to do this before entering an Ironman. The amount of training ramps up as you work through a training plan in the build up to race day. We would always endorse having a training plan to structure your time. Training will build up from around 6 hours per week initially up to a maximum of around 15 weeks in the final phase of training.
Question: Can you do an Ironman without training?
Answer: Physically it is possible. With the individual cut off times you would need to come into this as a competent swimmer, cyclist and runner to make the times. In reality the complexities of equipment, hydration and nutrition on top of the physical exertion mean this is not something anyone should entertain.
Question: Is there anything harder than an Ironman?
Answer: There are a number of events that have been created to trump the Ironman mantle as the toughest race. The closest true event that is genuinely harder than an Ironman is the Ultraman. As the name would suggest it is pitching itself as the ultra event to enter.
The Ultraman begins on Day 1 with a 6.2-mile (10-km) ocean swim from Kailua Bay to Keauhou Bay in Hawaii. This is immediately followed by a 90-mile (145-km) bike ride. Day two is a 171.4-mile (276-km) bike ride from Volcanoes National Park to Kohala Village Inn in Hawi. Day three is a 52.4-mile (84-km) double-marathon, which starts at Hawi and finishes on the beach at the Old Kona Airport State Recreation Area.
Each stage must be completed within 12 hours or less. The cut-off for the swim is 5.5 hours or less.
---
>>> Best Womens Road Bikes 2020
---
Ironman First Timers FAQs
Question: Which Ironman race is the best one for first time entrants?
Answer: There are no easy Ironman courses and events. With races held across the globe travel will be a factor for what suits people best doing it for the first time. Looking purely at the course and conditions Ironman Texas offers first timers a course they can finish. With a lake swim completing a single loop there is no rough seas to consider and straight forward open water sighting. The bike course is 2 laps mainly closed roads and limited elevation of 980ft to contend with allowing you to concentrate on your ride and staying on the aero bars. The run is another flat course with 493ft of elevation over 3 laps giving plenty of scope for loved ones to set up position and cheer you on a number of times without having to move.
Question: Has anyone died doing an Ironman?
Answer: The unfortunate answer to this is Yes. Over the years and hundreds of races many people have died competing in official Ironman and full distance triathlons. The bulk of these saddening moments occurring either while people were swimming or in transition following the swim. Our thoughts go out to all the families for whom this is not just a statistic.
Question: What is the hardest Ironman race?
Answer: Although Ironman Kona is among the toughest Ironman races it is arguably not the hardest. It certainly can present some of the most challenging race conditions with the blistering intense heat on the bike amongst others. The hardest in our view came down to a choice of two Ironman races. Lanzarote or Wales. While we have a close affinity with Wales our answer for the toughest Ironman is Lanzarote. With a two-lap Atlantic Ocean swim course to start that takes place at Playa Grande, Puerto del Carmen presenting potentially choppy conditions. Lanzarote Ironman then serves up a hilly bike course, with over 2,500m of climbing. The island adds to the mix strong winds making the ride even harder. The race then finishes with a run course that leads the triathletes along the seafront of Puerto del Carmen, up to Arrecife and back, and then to Matagorda and back. While the 3 laps of the run is relatively flat the heat in July can be brutal. Too much for many holiday makers with umbrella drinks let alone for triathletes taking on the marathon.
Question: Can you enter an Ironman if you have never done a triathlon?
Answer: Yes. Anyone can enter an Ironman race other than the wold championships in Kona that is subject to qualification or lottery based places. Assuming you can afford the entrance fee you can race. Our recommendation would be to build up to Ironman competing in shorter distances before this and learn the craft.
Ironman Nutrition FAQs
Question: Do you eat while doing an Ironman?
Answer: Absolutely. Nutrition for a successful Ironman is critical to completing a race where you can burn over 10,000 calories. Having a proven nutrition plan is critical having established the right food types for your body and how to take on board the fuel you need. Nutrition and hydration are both essential to be part of your race day planning.
>>> Nourished 3D personalised nutrition supplements review
Question: What should you eat while doing an Ironman?
Answer: Carbohydrates are the most important fuel for endurance races such as Ironman. Your taste buds and digestive system will help you choose to eat but you need to learn what works through training. There is such a galaxy of products to choose from and some you will find work and others just don't. Personally I am a big advocate of jelly babies rather than energy chews. They are easy to chew on the bike and they taste different from gels and energy drinks.
In terms of best practice for your nutrition select products, which contain multiple sources of carbohydrates (glucose and fructose). This mix of carbohydrates promotes enhanced absorption allowing you to release energy easier.  Use shorter distance triathlon races to test out your nutrition and hydration plans with new things. Make sure your body can work with the combination of products and never try something for the first time in an Ironman.
Professional Ironman FAQs
Question: Do Ironman Triathletes make money?
Answer: Professional Ironman triathletes win prize money and sponsorship working full time as triathletes. There are only a small number of professional Ironmen and women making money on the circuit.
Question: How much prize money is there for winning an Ironman?
Answer: The top prize for Ironman Kona in 2019 was $120,000 with cash prizes for the Top 10 finishers. There is prize money available in all Ironman branded full distance events as well as others such as the Challenge series. From the top 10 paid Ironman athletes in 2019 (this includes men and women) the average annual earnings were $150k with a woman the top earner.
Ironman Equipment FAQs
Question: Do you need a triathlon bike for an Ironman?
Answer: You don't need to race with a triathlon or TT bike in an Ironman but there are a series of rules around what you can ride. Any bike you use must conform to the following rules:
The bike cannot use any electrical assistance and be powered purely by the rider using a chainset moving in a circular movement.
The front wheel must be of spoke construction (aero rim with spokes is
permitted) and must not be solid.
The rear wheel may be either spoke or solid disc wheel. Wheel covers are permitted only on the rear wheel. Solid (disc) rear wheels are prohibited at the IRONMAN Kona World Championship.
Wheel spokes can have an aero rim with spokes (spokes may be bladed, round, flattened, or oval).
Length of the bike cannot exceed two meters, and width cannot exceed 75 centimeters.
The distance from the ground to the centre of the chain wheel axle must
measure at least 24 centimeters.
A vertical line touching the front most point of the saddle may be no more than 5 centimeters in front of and no more than 15 centimeters behind a vertical line passing through the centre of the chain wheel axle.
The "front-to-centre" distance, (the distance between a vertical line passing through the centre of the chain wheel axle and a vertical line passing through the centre of the front axle), must measure not less than 54 centimeters. Except where the distance between the centre of the chain wheel axle and the top of the saddle is less than 71 centimeters (in this case the front-to-centre distance cannot be less than 50 centimeters). Catering for small size bikes. The "front-to-centre" distance must not measure more than the 65 centimeters, or seven eighths of the distance between the centre of the chain wheel axle and the top of the saddle, whichever is greater. Applicability of the two foregoing exceptions is determined by measuring from a point on top of the saddle which is 14 centimeters behind the front most point of the saddle.
Fairings are prohibited.
Handlebars and stem must be structured to prevent any danger. All handlebar ends must be solidly plugged to reduce possibility of injury.
There must be one working brake on each wheel.
There must be a free-wheeling mechanism between the crank and the rear wheel that allows the bicycle to roll forward while the pedals remain stationary.
Non-traditional or unusual bikes or equipment are illegal unless, prior to the start of the Race, approval has been granted from the Event-specific Head Referee.
Question: Why do people use a TT bike in Ironman Triathlon?
Answer: TT or Triathlon bikes are not necessary to compete in an Ironman triathlon and you are able to use road bikes as an alternative.  The driver behind using a a triathlon bike is to enable a triathlete to complete the bike leg of a race and begin to run with enough juice left in their legs to reach the finish line after a full marathon.  Being able to transition from cycling to running without impact is key to triathlon success.   
Question: Do Ironman Athletes go to the bathroom?
Answer: No surprises but in a race lasting up to 17 hours Ironman athletes do need to use the bathroom. Planning for this is important so stocking up on carbs ahead of a race a delicate balance to not need to poo while racing. going for a wee is unavoidable as you race for such duration and hydrate to the levels needed.