This weeks blog is something shiny, smart and orange. Over the past few months I have been getting to know the MiRider One for this review. Taking it on the commute. Using it for local rides. Taking it on breaks. Read everything about this innovative folding eBike from the first opening of the box to real life range experience. MiRider One Review with everything to consider before buying an electric folding bike.
Having reviewed a range of folding bikes, folding eBikes, bikes and eBikes over the past 8 years for Trivelo I have been looking forward to reviewing this one for some time! This is for anyone considering buying a folding eBike to help you make the decision if the MiRider One is for you.
---
Summary of the MiRider One Review
A strikingly good looking folding eBike that has the power to propel you through your commute safely. With the boost function it becomes a trusted companion for the commute. Noisier than some but a great price compared to the Brompton P-Line electric at less than half the price.
Trivelo Score – 4.5 / 5
Pros & Cons
Pros
Well planted ride for a folding eBike
Boost button helps you join in the flow of traffic when busy
Build quality is very high and folding mechanism built to last
Cons
Folded bike magnet not strong enough to keep bike folded
Being an electric folding bike makes it pretty heavy to carry
Electric motor is audible when riding that would be better if silent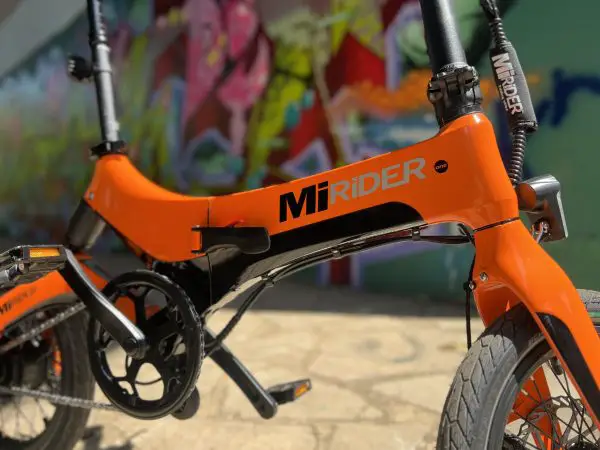 ---
---
Building the MiRider One
For the first stage of the MiRider One Review is that new bike experience from unboxing. Unpacking the bike it comes in a branded box well packaged to protect the bike inside. The build is pretty intuitive and with it being folding eBike I had it built in about 10 mins. No instructions needed. It came charged and ready to go. Don't make the same mistake that I made when fitting the handlebars and make sure the controller is on the left. I was able to remedy this quickly but worth avoiding when you unpack yours.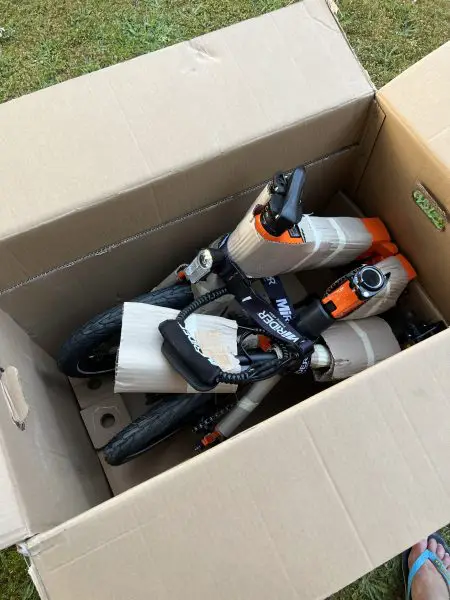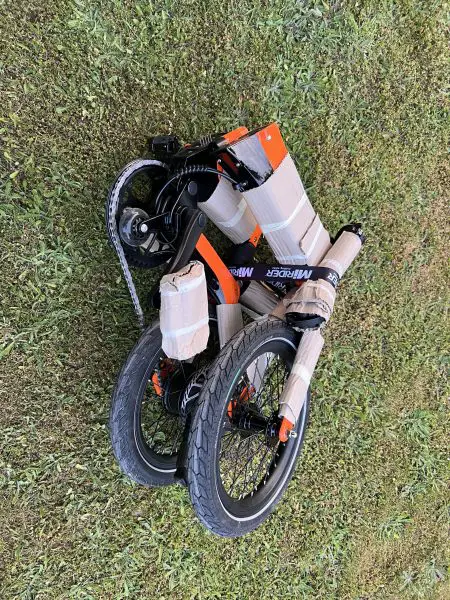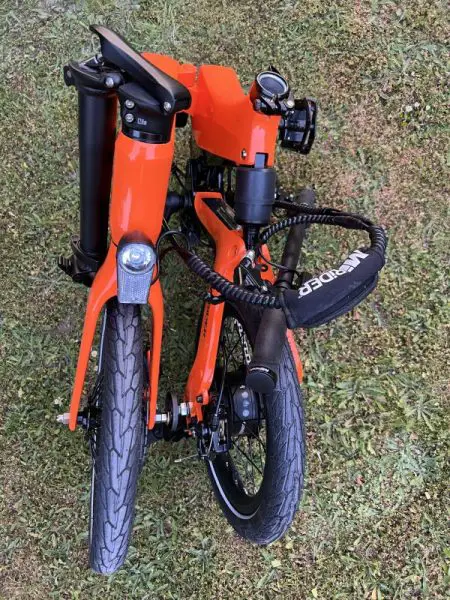 Watch video unpacking and building MiRider One as part of our review.
Ride of the MiRider
The MiRider sits on 16″ wheels similar to many folding bikes. I am 6'3″ so folding bikes can be a nervous experience for me but this was not the case on the MiRider. The ride feels solid and I felt well planted thanks to the 1.75″ wide tyres that give a great grip.
It has a rear spring suspension unit at the foot of the seat post. Initial rides for my MiRider One Review with this were pretty rigid but it softened with more riding. Suspension on a folding eBike is a nice luxury and helps with the feel of the ride even in city street cycling. It is very subtle in terms of suspension but enough to take the harshness out of potholes. During my review of the MiRider One I used it for a number of commute trips and got a good feel for it. The ride is something you get used to and certainly good compared to other folding eBikes.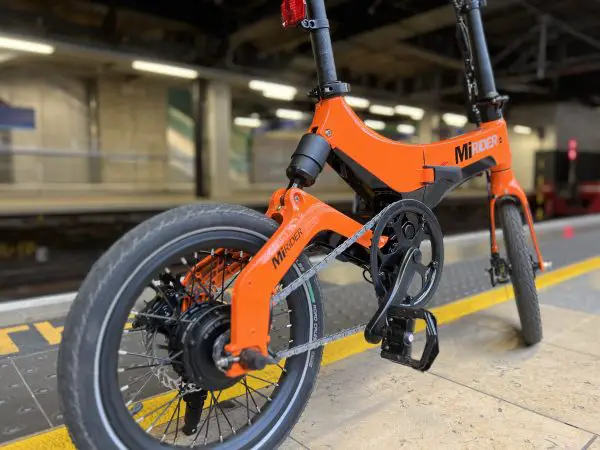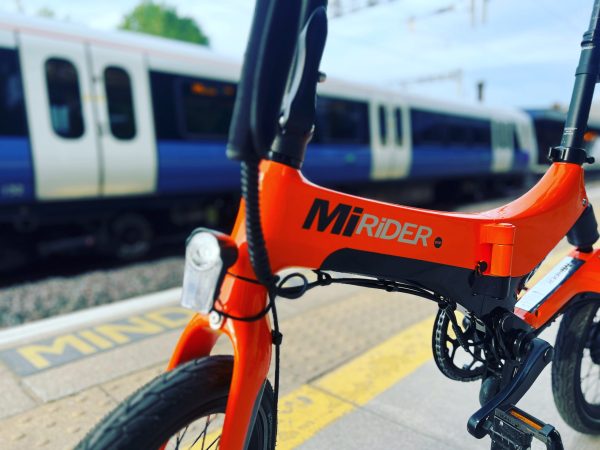 The Clarks CMD-24 disc brakes are a triumph. They provide incredible performance that being honest caught me off guard initially. I didn't expect a bike of this size to brake so sharply that resulted in some unplanned skids approaching traffic lights. Slightly embarassing!
With a single speed the gearing is limited but it is a bike designed for inner city cycling. Taking the bike beyond the limited 16mph assistance is possible. I took the bike up to 20mph but wouldn't want to be riding it beyond this. It isn't designed for that kind of cycling in terms of size or the gearing. The brakes I am sure would be up to the job though if needed!
Electric motor performance when riding
The MiRider One is a Class 1 eBike so suitable for worldwide use. This mean it is limited to 16mph and has a motor limited to 250w. It also means it is pedal assisted electric assistance. MiRider have developed the bike to include a boost button. This gives the bike unassisted throttle power from zero to 4mph. This clearly doesn't breach the laws somehow and a unique feature of the bike.
In busy traffic this extra boost when pulling away means the bike can join the flow of traffic more quickly as you begin pedalling. I found this really useful when riding in city centre locations. It also can give pedal assisted boost beyond this should you need extra power.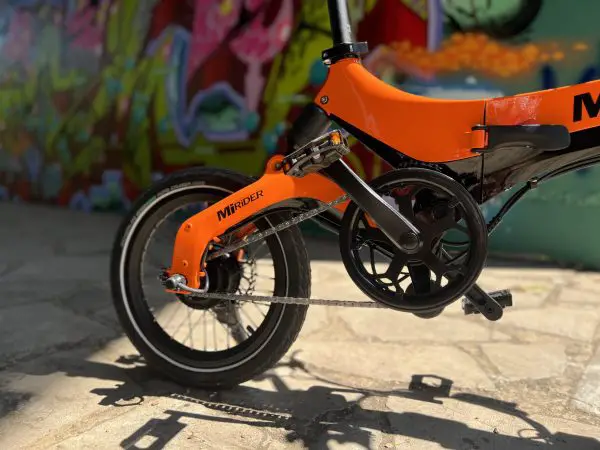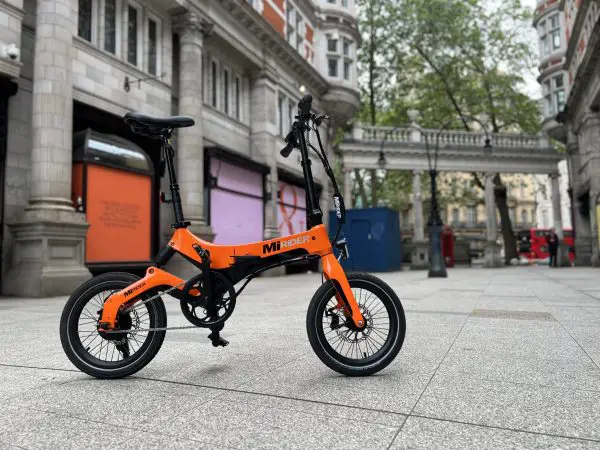 The motor has 40Nm of torque that is low and means on any inclines you need to use the higher power levels (4 or 5). This was ok for giving you extra support but I found from testing the MiRider One that on bigger inclines the bike would struggle. The motor is audible. A friend who I rode with while riding the MiRider One commented on how he could hear it as we pulled away. This is a shame that this hasn't been more masked by the rear power unit.
The torque sensor is supplied by Sine-Wave and is relatively basic. Sensitivity as you pull away is limited and it takes a few revolutions to kick in the motor. It equally only looks for pedal cadence so you can lightly crank the feels to get motorised assistance. I've ridden more connected eBikes where the torque sensor picks up your pedalling much more directly. This MiRider One folding eBike torque sensor is ok but be prepared for it not being as sensitive as some more expensive folding electric bikes.
Electric Bike Sales have been skyrocketing. Find out why and what industry experts are saying about buying patterns and which eBikes are most popular. Read our article on eBike Sales.
Folding and Unfolding
Folding up the bike only needs three steps. Two if you don't bother to lower the saddle. The handlebars fold down from a single latch as does the middle of the frame. The locking mechanism can be opened with a single hand but has a double lock to ensure doesn't come open while riding. You can fold it in under a minute and likewise for unfolding it. The folded dimensions are small enough to put on a train without issue. While reviewing the MiRider One I did find the mechanism pretty straight forwards although you have to use 2 hands. I ride with a backpack so my hands are free. Which you need with the MiRider One.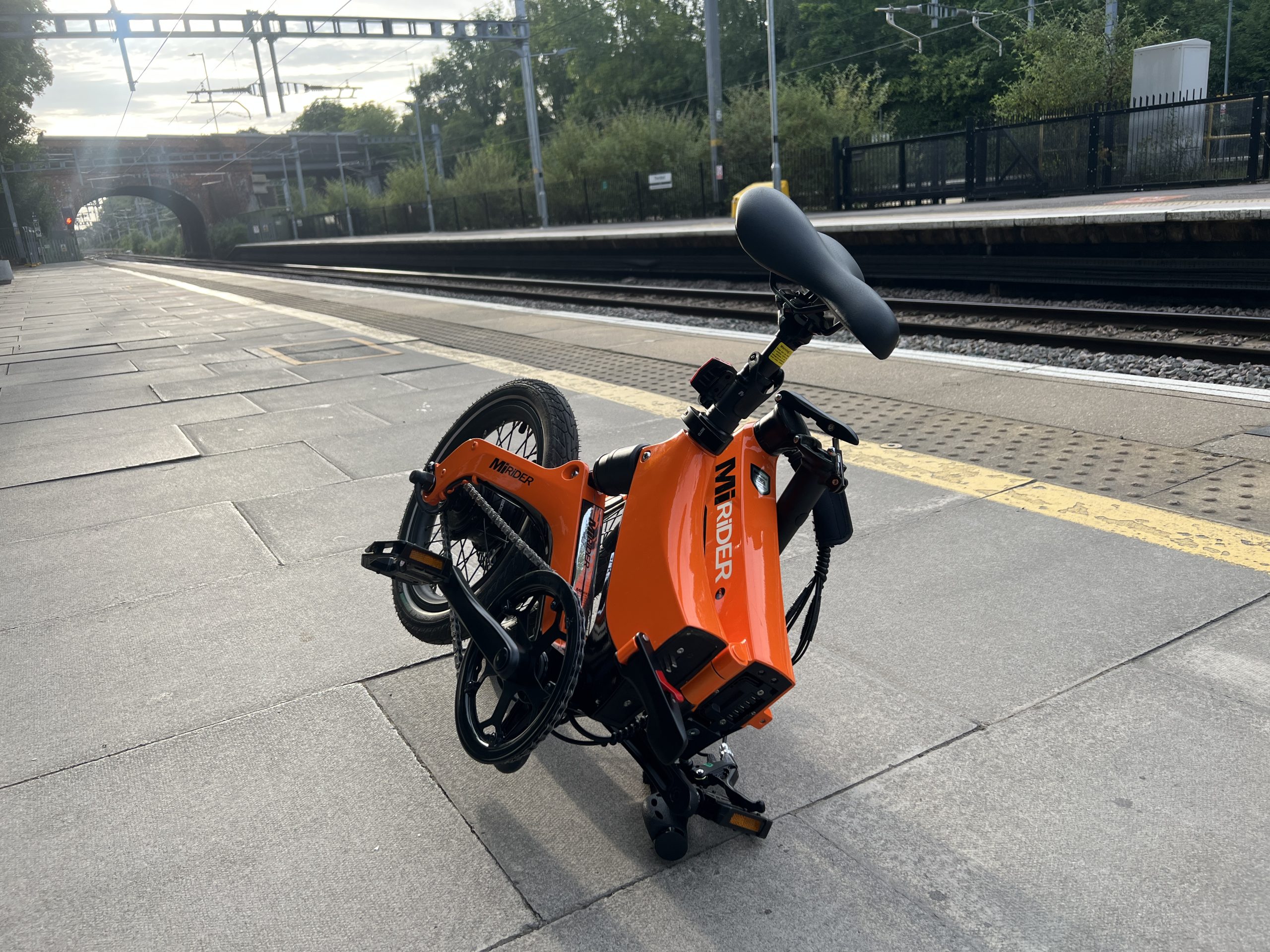 Transporting the Bike
I took the MiRider One on the train to get in and out of London on a number of trips. Through this I had to carry the eBike folded onto and off the train. The MiRider is 17kg so it is not easy to carry around. No issues to lift it on and off a train but not something I would want to carry far.
The folded eBike has a clever magnet on the rear wheel housing that connects to the front wheel when folded. I found this not really strong enough to hold it getting on and off the train. In the box is a strap. First time out I left this at home but this was a mistake. I would recommend taking this to help keep the bike fully folded and secure the frame in the folded position.
The front of the frame includes a small skateboard size wheel that is useful for pulling the folded bike around. You need to be careful when doing this to not damage the frame or handlebars.
Real Life Range of the MiRider One
From completing the MiRider One Review using the folding eBike for a couple of months I have been able to test the range. The quoted range of the MiRider One is 45 miles on level 1. Using it to cover over 100 miles from my use I found this an ambitious range. If you are regularly using the higher speed settings (4 or 5) and the turbo boost support the range of the MiRider One is 30 miles. A decent enough range for a commuter focused eBike. It should mean no need to charge each end of your journey or have any range anxiety worries.
If you want to ride and listen to music we have reviewed the Oladance open ear headphones that you should check out. I am not confident riding with headphones and losing those senses while cycling. The Oladance headphones use bone conduction technology that means you continue to hear noise around you. This makes them the only type of headphone we would advocate for cycling.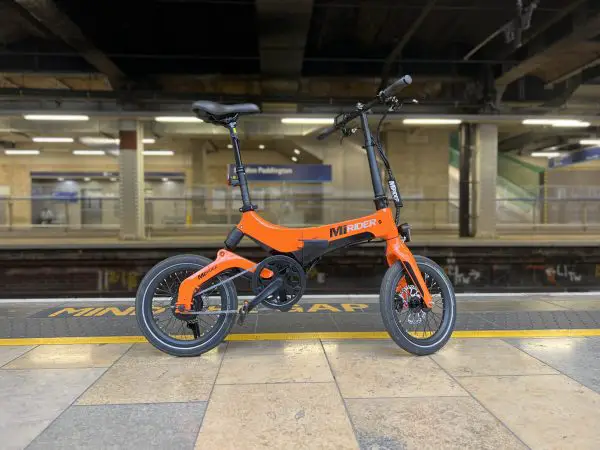 Connectivity of the MiRider One
The MiRider One does not come with any bluetooth connectivity. With so many eBikes now including a pairing app so you can track range and also include features such as an emergency contact notification this would be a useful addition.
MiRider One Versus MiRider One GB3
MiRider also produce a belt drive folding eBike the MiRider One GB3. What are the key differences between the MiRider One and the MiRider One GB3? There are a number of differences between the two bikes and the table below outlines the key differences between these two folding eBikes.
| | | |
| --- | --- | --- |
| | MiRider One | MiRider One GB3 |
| Drivetrain | KMC Chain | C Drive Belt Drive |
| Display | Mono LED screen | Large Colour Display screen |
| Gears | 1 | 3 |
| Price | £1,595 | £2,495 |
---
MiRider One Folding eBike Key Specifications
| | |
| --- | --- |
| Category | Results |
| Weight | 17.3kg |
| Motor | 250w with 40Nm Torque |
| Battery | 252Wh |
| Suspension | Rear Sprung dampner |
| Folded dimensions | 770mm x 430mm x 680mm |
| Wheels | 16″ with aero hub |
| Gears | Single Speed eBike |
| Frame | Magnesium Alloy |
| Range | Up to 45 miles |
Is the MiRider One eBike Worth the money?
Priced at £1,595 the MiRider One is significantly less than both the Brompton P Line electric or Brompton C Line electric. It is closely priced with the Raleigh Stow E Way that offers a much more conventionl folding eBike solution. There are cheaper folding eBikes but the MiRider One is well priced. For my daily commute using the MiRider saved me £15 per day. Assuming I commute twice a week the MiRider One would pay for itself in under a year using these metrics. From my use during the MiRider One Review I would say it is worth the money and well priced.
You can buy the MiRider One in the UK using the cycle to work scheme. This would allow you to buy the bike from salary with the deductions taken before tax. Payments are also spread interest free over a year so making the eBike more affordable.
Best Alternatives to the MiRider One
Read our post on the 9 best folding eBikes for a full list of folding electric bikes. This list includes the MiRider One where you can see it pitched against its rivals.
---
Best Price for the MiRider One Folding eBike
Buy the MiRider One direct from MiRider for £1595
Video Review Summary on the MiRider One Folding electric bike
Hear my thoughts and see the bike in use in the video summary of my review of the MiRider One.
---