For our blog this week we have some tips for all those of you loving your road trips but fear the hills.  As races can't all be flat what are some handy techniques to help you conquer this and smash past the competition on the ascents.  Ride faster and stay stronger on the hills with our 15 Top Tips for Cycling Uphill For Beginners
Stay seated for as long as possible 
1.Generally staying seated as long as you can is your best way to climb hills. It creates the least wind resistance using a straight back with relaxed arms.  Keeping a compact form helps you move quicker up the hill, completing the ascent.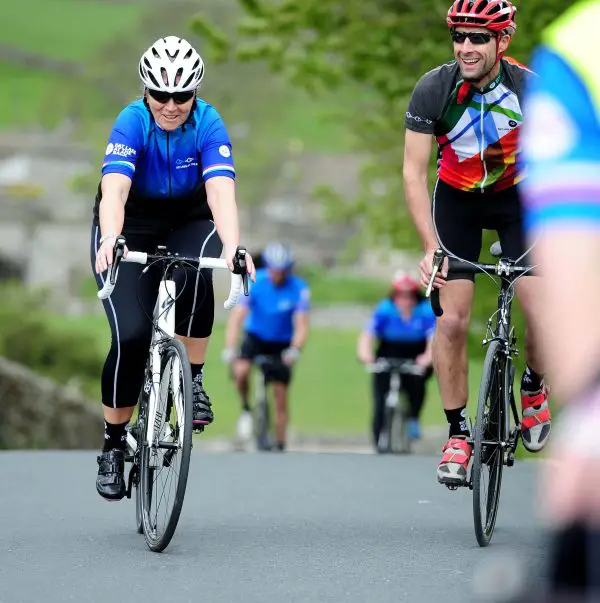 Maintain your body position on the bike
2. Keep a steady body position using relaxed arms.  This allows you to maximise your air intake losing as little energy as possible from upper body wobble.  
Find a comfortable position on a hill
3.Listen to  your body and find the best power position for your body type.  This may be different to your usual riding position on the saddle.  It may be further forward or back in order to allow power to transfer most cleanly through the pedals.  
Break up the hill with the standing position
4. Some people favour standing in the saddle.  If this works for you don't break a good formula but practice remaining in the saddle for longer.  Standing ultimately drains more fuel as you tend to create a less stable platform.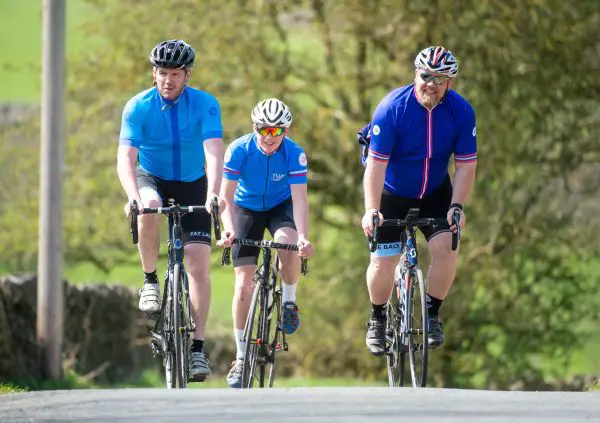 Reduce your weight for climbing
5. Carbon fibre everything is wonderful to drool over.  Chances are your best bet for weight saving is one less pie tonight. You are always the heaviest element of your bike and offer the greatest opportunity for weight loss.
That may mean one less jumper or slimmer socks but more than likely that pair of moobs give you greatest weight loss opportunity.  Ultimately the less weight you carry the easier it is to fight gravity and drag your body up that hill.
Have the right kit
6. Gearing is certainly a factor.  Just because you happen to be rocking Di2 on that Pinarello doesn't also mean you have the right number of teeth on that rear cassette.  More teeth means better gearing and less effort to maintain momentum.  For a trip that has lots of climbing you may have to consider your gear ratios and possibly making changes.
If you are looking for a bike to begin cycling check out our round up of 15 of the best gravel bikes with something for every budget. Also some useful insight on what makes a gravel bike such a good first bike. Versatility and stability on the road.
Make sure you are in the right gear 
7. Over a mountain and a steady climb you may need to consider dropping right down the gears and grinding it out.  Preparing for the incline ahead means considering the best gearing for the part of the climb.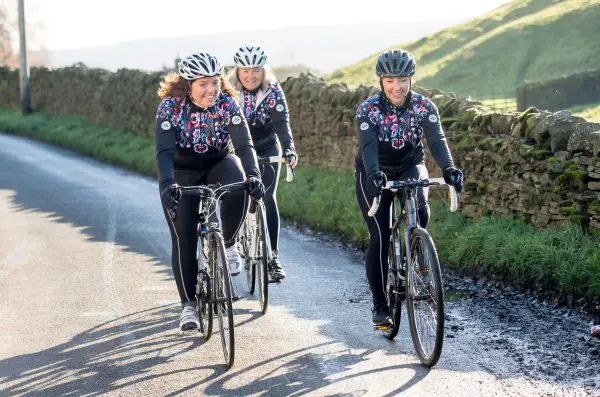 Manage your pace
8. For sure the more pace you carry into a hill the more pace you have to start your journey.  This will only last for smaller bumps in the road.  On a longer hill climb consider how much you attack the first section.  Preserve enough energy to power through the final metres of a hill.  If you are attacking an unfamiliar ascent you have never seen before this may not be easy.  You won't know what comes around that corner.  So, err on the side of caution and keep enough in the tank to conquer the Alps.
Practice, practice, practice
9. Regular Sunday rides with the chain gang are all well and good.  If they never attack any hills and continue to find a way around it you will always be left wanting when it comes to  race day.  Ditch the slackers and get out there and find some hills.  If you can face it doing hill repeats is your best bet to build up stamina and find your groove.
Find your happy place
10. Defeating a hill can be a mental battle as well as a physical one.  It is all too easy to talk yourself out of success and give up.  Find ways to take your mind away from the lack of a finish line.  Focus on your front wheel and count from 1 to 10.  Repeat this without looking at your end point to allow the metres to pass without sweating your lack of progress.  
Maintain a smooth pedalling action
11. Relax as you focus on your pedal technique.  Talk yourself into success rather than persuading yourself you can't do this.  Smooth cadence and pedalling motion means you use consistent power through the pedals.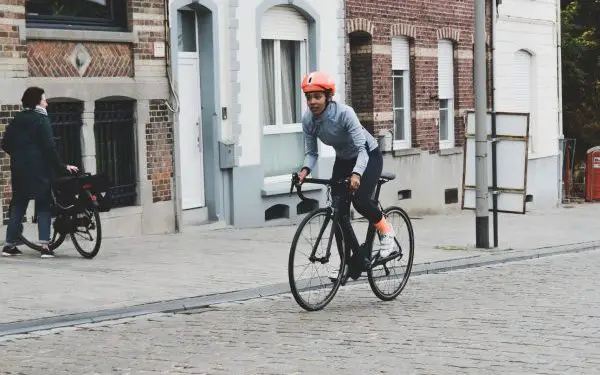 Plan your ride
12. If you know your route you can plan the hills.  Quality data on hill percentages are readily available on apps such as Strava.  Understand what the course looks like so you can use this while on your ride.
If you are unfamiliar with Strava check our guide on How Strava works. And explains how you can use it for free.
Breathe steadily and stay calm
13. Don't tense your body and consider your breathe intake.  Breathing steadily and taking long deep breaths helps keep your heart rate under control.  Lower heart rates mean more capacity for endurance.  
Fuel your ride 
14. Make sure to consider how you fuel your ride so you have the energy you need for a climb.  If you have planned your ride take on board extra fuel before a long climb.  Personally I love jelly babies for a boost of energy and they are easy to consume while riding.  Glycogen is the fuel your body will crave while climbing.  It is stored in your muscles and when climbing your body will seek it out for additional reserves.  
For a more in-depth view check out our Top 5 Tips for Nutrition on a long ride.
Maintain pace through the crest 
15. As you reach the crest of the hill keep going.  As the ascent reduces the demands on your body will reduce and you will crave oxygen less.  The temptation is to slow as soon as you near the end.  This is a recipe for a disappointed cyclist as you walk the final 5 yards giving up too early.  Keep your momentum going until the bike will coast without effort. 
Don't fear the incline and use our techniques for defeating the hills on a road bike.