As part of our series of Frequently Asked Questions proud to share our Beginners Guide to Triathlon FAQs. Below are a series of questions and answers to help you complete your first triathlon.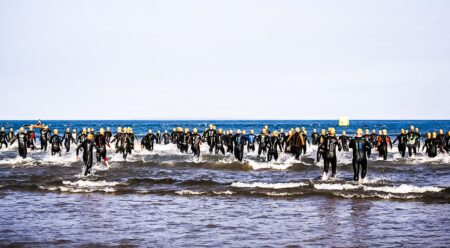 ---
Beginners Triathlon Frequently Asked Questions
Question: What is a triathlon?
Answer: A Triathlon is a race over a variety of distances where competitors compete first swimming, then cycling and finally running. The race is continuous with athletes moving directly from one discipline to the next.
---
Question: What are the 3 sports in a triathlon?
Answer: Triathlon is a multi-discipline sport consisting of swimming, cycling and running.
---
Question: What is the minimum age I can compete in a Triathlon?
Answer: Depending on the race type the minimum age varies accordingly. Age group categories for UK triathlons:-
16 years of age for Fun, Super Sprint and Sprint distance triathlons.
17 years of age for Olympic distance triathlons.
16 years of age for Relay teams members up to Olympic distance.
18 years of age for Middle, Ultimate Half and Ultimate triathlon.
---
>>> SWOLF score explained: Essential Swimming Metrics
---
Triathlon Distances FAQ
Question: What distances are there in a Triathlon?
Answer: Triathlon distances per discipline are as follows:
Super sprint distance: 400m (swim), 10km (bike), 2.5km (run)
Sprint distance: 750m (swim), 20km (bike), 5km (run)
Standard (Olympic) distance: 1500m/0.93miles (swim),  40km/24.85miles (bike), 10km/6.2miles (run)
70.3 / middle / half-Ironman distance:  1.9km/1.2miles  (swim),  90km/56miles (bike), 21km/13.1miles (run)
140.6 / full / Ironman distance: 3.9km/2.4mile (swim), 180.2km/112mile (bike), 42.2km/26.2mile (run)
---
>>> Are Bike Power Meters Worth It?
---
Swimming in Triathlons FAQs
Question: Do you have to swim front crawl in triathlon?
Answer: No you do not need to swim front crawl in the swim leg of a triathlon. You are able to use any stroke you wish that permits you to complete the swim within the cut off time. Backstroke however is not permitted for pool swims. Additionally in open water it is common protocol for swimmers to go onto their back should they get into difficulty. Because of this swimming backstroke would likely cause issues. It is practically not very suited top open water as well with needing to sight buoys and follow a course.
---
>>> 15 Biggest Mistakes Beginner Triathletes Make
---
Triathlon Equipment FAQs
Question: What do I need to take part in a triathlon race?
Answer: While you can spend thousands on competing in triathlons for your first triathlon you do not need to invest in any specialist kit.  The essentials for your first Triathlon are:
Swim suit or wetsuit if open water race and goggles for the swim
A road worthy bike and helmet
Running shorts, socks, top and trainers for the final run leg
---
First Triathlon Races FAQs
Question: How do I get started in Triathlon?
Answer: Our advice is to join a triathlon club where you can access to coaches and friendly folks to ask any questions as you learn.  Please note that before you start a new training programme it is advisable to consult your GP to make sure you are fit and healthy to train.
---
Question: How long does it take to Complete a Sprint Triathlon?
Answer: For a beginner triathlete it will take around 2 hours depending on fitness. Breaking this down the swim should take around 2:00 minutes per 100 meters for the swim. So, 8 minutes total. The bike should take around an hour assuming an average speed of 12mph. Leaving the final leg that should take around 30 minutes for the run.  If you add in 5 minutes for each transition it gives a total time for a beginner to complete a sprint triathlon in around 2 hours.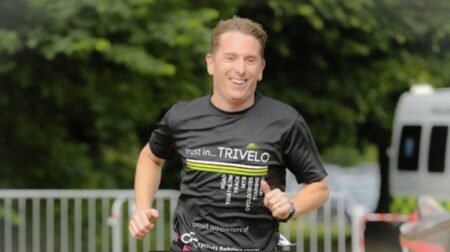 Question: What distance should my first triathlon be?
Answer: For your first triathlon our recommendation would be to enter a Sprint Triathlon. This is a real challenge for any athlete but something that can be accomplished with training. It also gives scope to try all elements including the open water aspect of the swim.
---
>>> Why you need to include brick training in your Triathlon training?
---
How Hard is a Triathlon FAQs
Question: What is the hardest part of a Triathlon?
Answer: For most beginner Triathletes they will tell you that the swim is the hardest part. Unlike cycling and running, swimming requires a huge amount of technique that takes time to properly learn. Swimming can also be one if the most mentally challenging parts of a triathlon.