For our blog this week we have A further review from the fabulous Mike who previously reviewed his Giant Talon bike review.  Check out what Mike to thinks of his road bike this week with the Giant Defy Advanced 1 review.
---
Summary of Giant Defy Advanced 1 Review
Trivelo Score – 4 / 5
The bike feels firm and well built, all other components have lasted and done well over the past 12 months, there's just a slight odd noise coming from the crank which no bike shop has managed to eradicate!
For the money it isn't a bad bike. It is well built and handles nicely. Relatively light and the gear ratios give you plenty of options for any cycling I am ever likely to need.
Pros and Cons of the Giant Defy Advanced 1
Pros
Good value for money
Nice looking bike
Good after sales care
Reasonably light
Cons
Poor quality tyres, well worth investing in a decent set!
---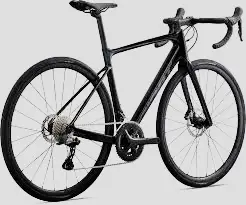 Ride Experience of the Giant Defy Advanced 1
I bought this bike with a view to touring Europe. The bike shop I had had dealings with in the past recommended this bike as an alternative to a touring bike. The Giant Defy range has an endurance style frame. This means that it has a more upright and relaxed riding position. Making it well suited to anyone looking at distance Sportives or long range events. This was my first Giant bike and my first endurance road bike.
It is a relatively light weight bike which handles the road nicely. For my particular use, 20 gears is plenty, in fact, I would probably manage happily with 10. As a bike it is a comfortable ride and gives me a comfortable riding position (I am 5′ 9″) riding a Medium frame.
If you are considering a new bike computer read our comparison of the Garmin Edge 1040 vs 1030 Plus vs 1030. A step-by-step guide of how the flagship Garmin GPS bike computer has evolved over the years.
Giant Defy Advanced 1 Build
I have been riding the bike for over a year. During this time the only mechanical issue has been some form of crank bearing problem. I am loathed to replace any parts but yet to resolve it. A bike costing this much should have more longevity.
The Giant Advanced 1 carbon fibre is beautifully designed. It has a solid and chunky feel that translates to how it rides. Rigid and assured even over the most pot holed filled road surface. As an endurance bike some people may find the frame a bit stiff but I personally like it. I have more confidence that this will last which is important as I plan to keep the bike for a number of years.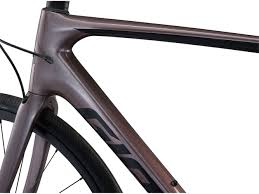 Is it a gravel bike?
The bike is marketed as an endurance bike rather than a gravel bike. That said it can accomodate 35c tyres that is pretty chunky in my opinion. Running 35c tyres you could easily take this on trail routes but I personally would not like to risk buckling the gorgeous carbon frame on uneven surfaces. I use it purely on roads and see it as a stable long distance road bike. Giant I guess are trying to appeal to the swarm of new gravel bike enthusiasts. I think that is a mistake. There is still plenty of space for a road bike which is what this bike is.
Looking for something different check out our review of the Priority Bikes Apollo belt drive gravel bike. A versatile gravel bike utilising the Gates carbon belt drive system instead of conventional chain.
Issues with the Giant Defy Advanced 1
My biggest gripe with this bike is the poor quality of the tyres. During my maiden ride I picked up 3 punctures. I gave up after 72km. It seemed to be it really didn't like the Shropshire lanes, or main roads for that matter as I suffered yet another puncture on my way to get it serviced. I rode a further 1,500 km in Qatar after that and only picked up one puncture. This was riding mainly on excellent roads or brand new bike lanes with little debris on them.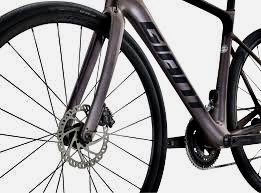 Giant Defy Advanced 1 Road Bike Specification
---
| | |
| --- | --- |
| Frame | Advanced carbon |
| Fork | Advanced carbon |
| Chainset | Shimano RS510 |
| Bottom Bracket | Shimano Press Fit |
| Cassette | Shimano Ultegra 11-34 |
| Chain | KMC X11 |
| Derailleurs | Shimano Ultegra |
| Shifters | Shimano Ultegra |
| Wheelset | Giant P-R2 Disc |
| Tyres | Giant Gavia AC 1 |
| Saddle | Giant contact |
| Seat Post | Giant D-Fuse carbon composite |
| Brakes | Giant Conduct SL Hydraulic disc |
| Weight | 9.4kg |
| Size as tested | Medium |
Giant Defy Advanced 1 Deals
Best Price – Buy the Giant Defy Advanced 1 for £3199 from Giant Bikes
Best Alternatives to the Giant Defy Advanced 1 road bike
Ribble Endurance SL Disc – £1999
Cannondale Synapse Carbon 4 – £2400