This week we are thrilled to share with you our thoughts on the Apollo Gravel bike from Priority Bicycles. I've spent the past few weeks getting to know it. I think you'll find this bike quite unique in that it's a belt drive, internal hub that I've never seen on a gravel bike before. Being so different we asked some of our friends to take a close look too. Here's what I found doing the Priority Apollo Review.
Introducing Priority Bicycles
We were contacted by Priority Bicycles to review couple of their bikes. Obviously, we were more than happy to give 'em a spin. I thought I'd first learn a little about Priority Bicycles seeing as, I'll be honest, I'd not come across them before. Turns out they've got quite a cool back story. Based in the US and starting around 10 years ago from crowd-funding they now ship thousands of bikes around the globe and committing to offering quality at affordable price from low overheads and an online only business model. I instantly felt an affinity for this no-frills brand from across the pond.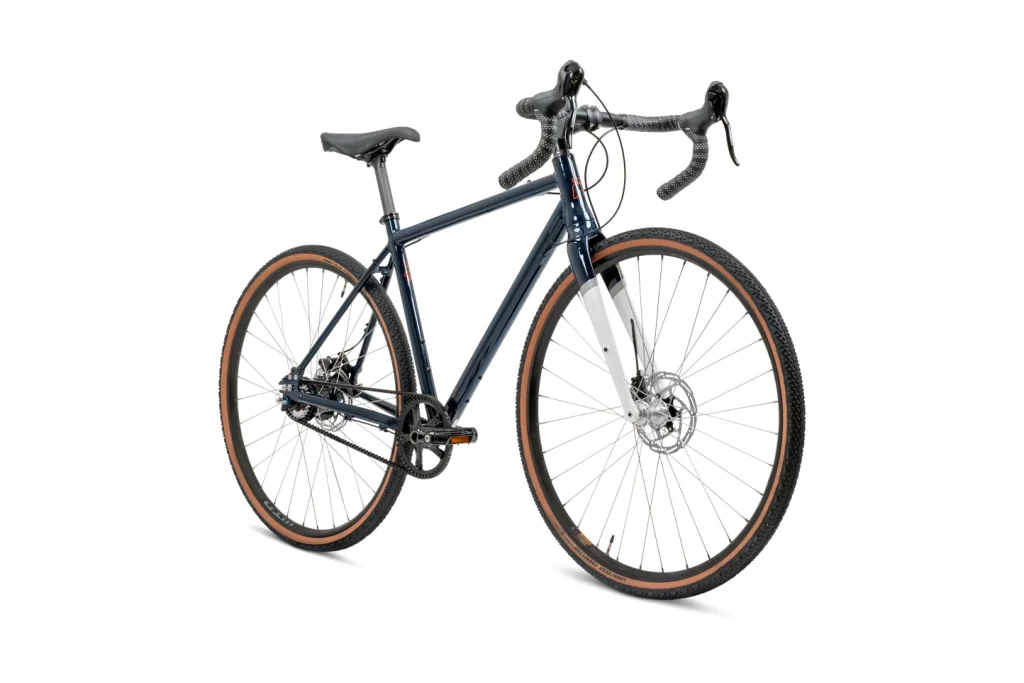 First Impressions
I know that not everyone cares about how your bike arrives but if you're having it shipped, you might be interested to know it came well packed with a decent amount of protection. A simple by nice touch from Priority Bicycles was to include a prominent QR code to quickly launch a handy 'how to assemble' video. Rather than ignore any assemble instruction as I would normal do, I chose, on this occasion to watch and found it helpful and meaning the bike was up and working within 15 -20 mins max. However, it did put the rear reflector on upside down, much to everyone's amusement. As you'd expect all the tools needed to assemble the bike came with it.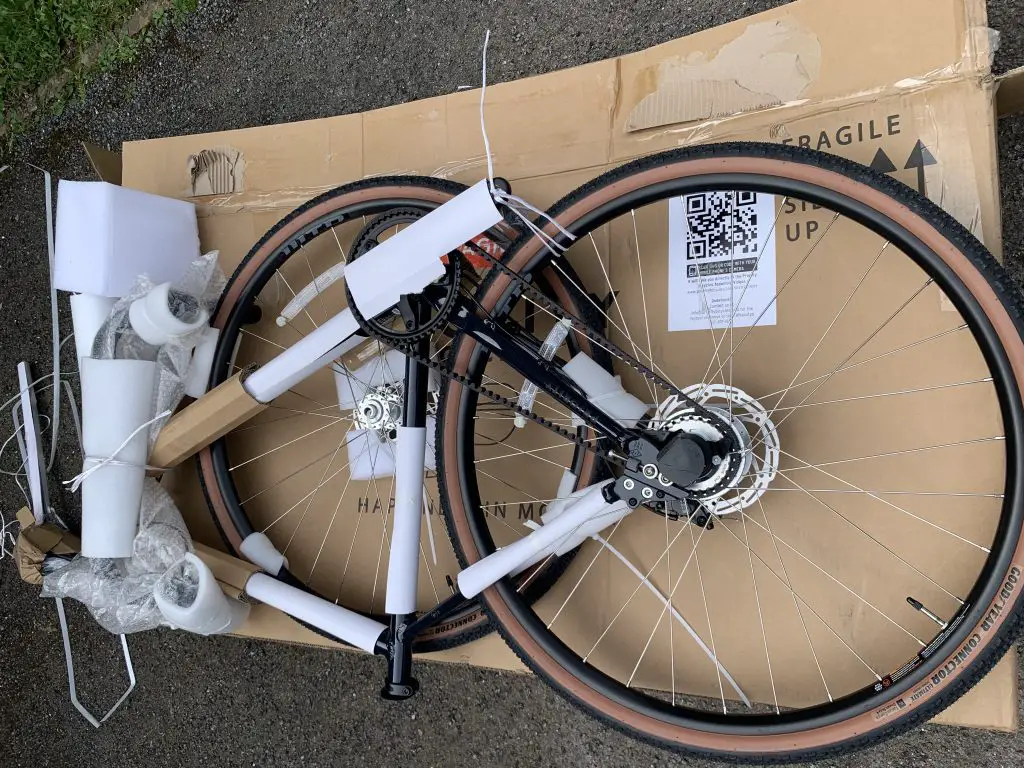 First ride out on the belt drive Grave bike
Keen to give this a go I took it around the block. Once I'd stop reaching for the the gear levers on the left as they operate up and down on the right drop bars the first thing that you notice is how quiet and smooth the belt drive gear shifts are. Seriously good.
From your very first ride, it feels like something different, something decent. You know straight away this is no racing bike. It's too heavy for that (c.11kgs or 24 lbs) but that's only a few kilos heavier than your average carbon road bike but it felt solid as you'd expect from a bike that can be taken off-road. It's no head turner, no brightly coloured graphics here, instead just a well constructed sturdy bit of kit that I have no doubt would run forever.
The 'run forever' comment is interesting, the materials used and lack of chain driven mechanism will mean this bike will operate well without much attention to maintenance. Now that doesn't feel right to those of us that spend hours washing, greasing, lubricating and adjusting but if you want a bike that needs less TLC then look no further.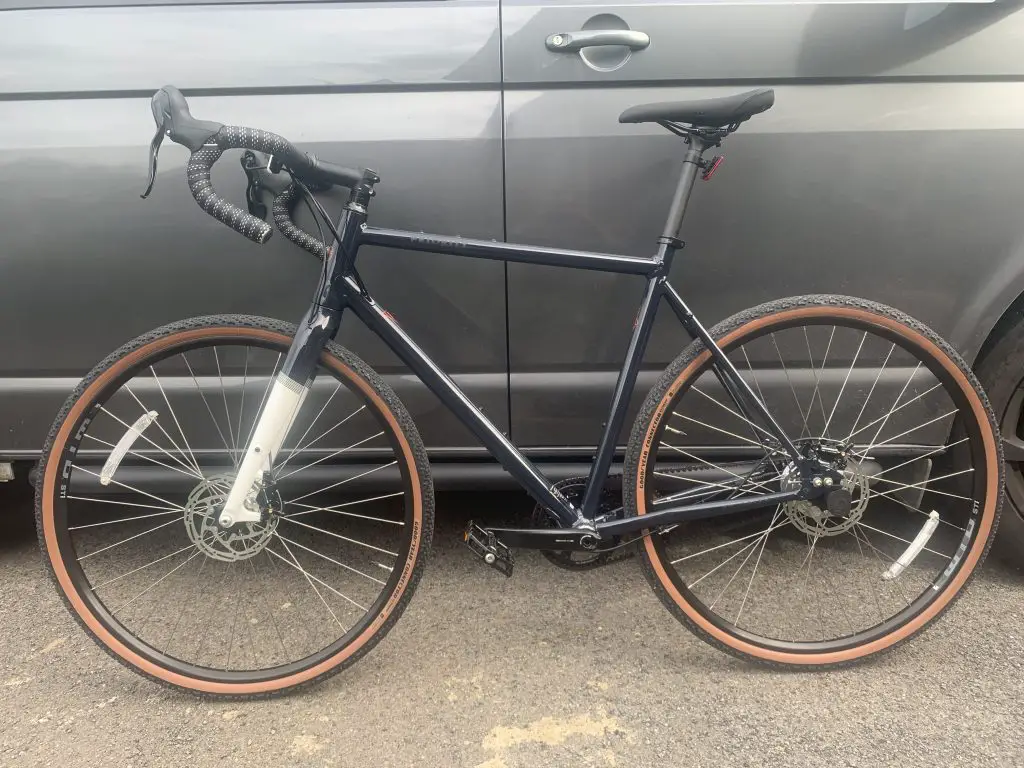 Apollo Gravel Bike Specification
| | | |
| --- | --- | --- |
| WHO | Suitable guys and girls | |
| RIDE TYPE | All terrain, Commuting, Off road trails, Road | |
| WHEEL SIZE | 700c, 650b | |
| GEARS | 11 (1×11) | |
| GEARING TYPE | Gates Belt Drive, Internal Hub | |
| SHIFTER | Integrated into right brake | |
| WEIGHT | c.10.5 kgs | |
| SUSPENSION | None | |
| BRAKE TYPE | Disc | |
| FRAME | Aluminium | |
| FRAME SIZES | 4 sizes (S – XL) | |
| FORK | Full Carbon | |
Apollo Gravel Bike specification
Testing the Apollo belt drive – work commute
My commute is a short, about 7 miles, with the option to take some tracks along a river. I would normally run or take the MTB so was keen to try the Gravel bike. It wasn't as robust as the mountain bike for bumping up and down curbs but it coped well enough but when back on the road the drop bar—shifted 11-speed was great. Faster that the MTB and way more capable in and around traffic and unphased by the numerous pot holes. My feet weren't clipped in but the bike felt solid and capable of making any necessary forced detours to off road. I liked it for its versatility and zero chance of any dirty chain grease.
Testing the Apollo belt drive – off road
I took the bike for a ride around a very hilly forested trail, way more challenging than most would expect on a commute or track. Trail was not rutted and was dry. I felt confident the bike was well in its comfort zone until I hit any real gradient. It's then when I noticed the additional bike weight. Another gear or three would have been helpful. Descending too I was not confident getting up any pace the lack of any suspension and leaning on the hoods left me wanting my MTB but some of the hills were particularly challenging.
The Hudson Hydraulic Front and rear brakes coped well but riding position left me feeling vulnerable on the steep descents. I think I was asking a bit too much from this bike as once on decent off road tracks we hit the Apollo's sweet spot.
Best Price for the Apollo Belt Drive Gravel bike
Price will vary but is accurate at the date of this review and dollar to pound conversion. RRP in dollars $1,899. I did get the sense of quality and feel this is better than a fair price for this smooth running, low maintenance yet reliable bike. You can be sure you'll run many miles before needing to spend any money.
Best Price for the Priority Bikes Apollo
Buy the Priority Bikes Apollo for $1,899 direct from Priority Bikes
If you buy something using links in our stories, we may earn a commission. This helps support our journalism. 
Video Reviews of the Apollo Belt Drive Gravel bike
Reasons to buy
Durable – well constructed ali frame with carbon forks and seat post.
Reasonably priced and affordable compared with many commuter bikes and way more fun
Gear change at a standstill
Versatile – commuting, off road gravel tracks
No mess – The carbon belt drive is extremely easy to maintain, especially when muddy.
Low maintenance – water/muck proof belt drive – easy wash down.
Assembly is easy with all tools included and step by step video guide.
The 11-speed internal geared hub shifts silently, unlike bikes with chain and derailleur.
Reasons not to buy
Not the lightest gravel bike available but It's worth noting that 24 lbs is not exactly heavy either considering the weight of the internal gear hub.
Shifting takes time to get used to.
Less good on the climbs
No suspension
Read the review of the Priority Bikes 600x mountain bike that also benefits from a carbon belt drive. Packing an amazing set of components the 600x includes an internal mid-mounted Pinion gear system that really gives the bike an edge.
---