For our latest post I wanted to share our insight on the best electric bike for Seniors in the UK. In the Trivelo test squad we have a wide range of testers including Brian a pensioner who still loves cycling. He has helped us to pull together the following ebike Buyers Guide for Seniors. This is for anyone thinking of buying an ebike as a Senior or equally for family members thinking of buying one for a relative. Over 70's can enjoy eBikes safely and are a perfect mode of transport for many.
Everyone is an individual though and I recognise eBikes are not a viable option for many Seniors. If you are considering starting cycling and using an e-Bike as a Senior please check with a medical professional if at all worried. My own father can no longer ride his eBike due to medical conditions so I am acutely aware of the realities for many.
Hope you enjoy this round-up and find something for you.
---
5 Best electric bikes for Seniors in the UK
---
Best electric bike for Seniors UK
Tenways CGO800s
Trivelo Score 4.5 / 5
This is my recommendation for the best eBike for Seniors to buy. Why? It is well priced. Comfortable to ride. Very simple interface to use. Stylish masking the eBike credentials. Just because you may be a Senior citizen doesn't mean the eBike you buy needs to look like it was designed from a bunker in the 50's.
Tenways are a relatively new entrant in the bike manufacturing community. We started testing their eBikes 2 years ago and were immediately impressed. I have ridden a number of their bikes myself and found them hugely competent. No corners being cut. They are European based and another factor to consider is they have a good after-market network in the UK should you need any support or maintenance.
One of the unique features of the Tenways CGO800s is the carbon belt drive replacing a chain. On an eBike this means the bike is silent which allows you to enjoy the ride. A belt drive loses no power in transmission and leaves the bike near maintenance free. Perfect for Seniors allowing you to concentrate on using the bike.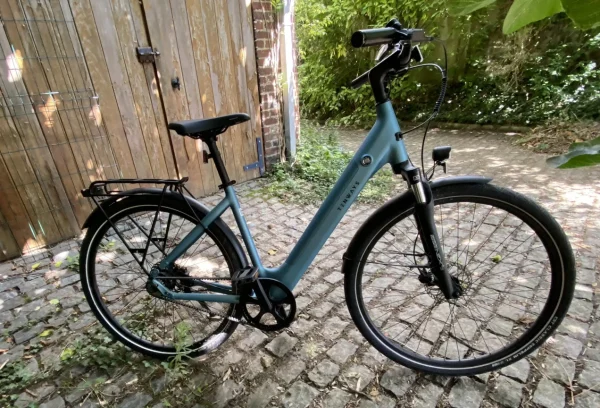 Key Features of the Tenways CGO800s eBike
| | |
| --- | --- |
| Frame | 6061 Aluminium step-through frame |
| Motor | Mivice M070 250w Rear Hub 45Nm Torque |
| Battery | 36V, 10.4Ah Lithium-ion removable battery |
| Range | Up to 100km (60 miles) |
| Weight | 19kg |
Reasons to buy the Tenways CGO800s
Reliable and comfortable eBike that is very easy to ride with a silent powertrain. Great after market support from a UK based team.
Read the review of the Tenways CGO600 that uses same technology but without the stepthrough frame that is more suited to Seniors. Or check out the video where we talk through all about the eBike.
Best price for the Tenways CGO800s
Buy the Tenways CGO800s for £1,899 from Tenways UK direct
---
Volt Regent Step Through eBike
Trivelo Score 3.5 / 5
Unlike the Tenways the Volt the Volt has 8 gears giving it more capability for anyone using on hilly routes. I personally find the styling a bit bland but it is a very solid eBike. With SR Suntour NCX forks on the front it offers additional comfort through the handlebars.
Weighing over 20kg it is heavier but not heavy for normal eBikes hence why I have included it in the line up. Being a UK company as well they are not purely an online option. If you search from the site you can find many local distributors that is good news to ensure you can try before you buy. A very welcome touch as well is the chance to book a test ride and make sure the bike is right for you.
With a huge 80 mile range the bike will not need regular charging and it also has the option to add a GPS tracker. A very handy feature if you need to share with loved ones where you are or equally ever need to quickly share locations. UK built and sold eBike with strong frame and gearing to ensure the power assistance is well balanced.
We score it lower than the Tenways due to the extra cost and weight of the eBike. Ideally we want to make eBikes accessible for everyone to remain active and connected.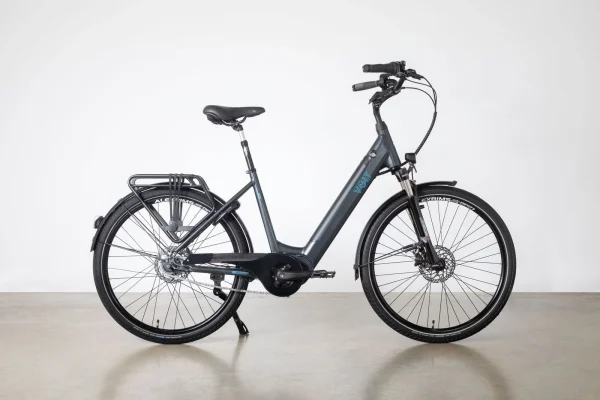 Key Features of the Volt Regent electric bike
| | |
| --- | --- |
| Frame | 6061 Aluminium step-through frame |
| Motor | 250w Bafang M200 65Nm Torque |
| Battery | 36V, 10.4Ah Lithium-ion removable battery |
| Range | Up to 130km (80 miles) |
| Weight | 21.5kg |
Reasons to buy the Volt Bikes Regent electric bike
Strong UK dealer network including a try before you buy service. Buy with confidence for after sale support but also to ensure bike meets your needs.
Best price for the Volt Regent electric bike
Buy the Volt bikes Regent eBike for £2,699 from Volt direct
---
Raleigh Motus Grand Tour LowStep
Trivelo Score 3.5 / 5
Raleigh are one of the oldest brands in the UK. Continuing to develop innovative bikes they are selling the Motus Grand Tour LowStep. The frame has a step through style with a mid-mount Bosch motor housed in the frame. It gives the eBike a low centre of gravity to make it stable for cycling.
The Raleigh is a very close cousin of the HaiBike Trekking 4 Low. The reason why I chose the Raleigh over the HaiBike is with a number of discounted deals on the Raleigh at the time of writing. the Motus uses the Bosch motor and 500Wh battery (biggest in this selection). This means charging is only needed every 100 miles. Making it as easy as possible for riders and saving regular need for charging.
I find the Bosch motor super reliable and silent so a great choice for the Raleigh. Well worth inclusion in this line up with stable and comfortable riding coupled with premium parts beyond just the electrics. Good to see Shimano across the eBike. Like the Volt the Raleigh has gears for anyone riding difficult terrain needing assistance. The Motus has 9 speeds so plenty of flexible and range for any conditions.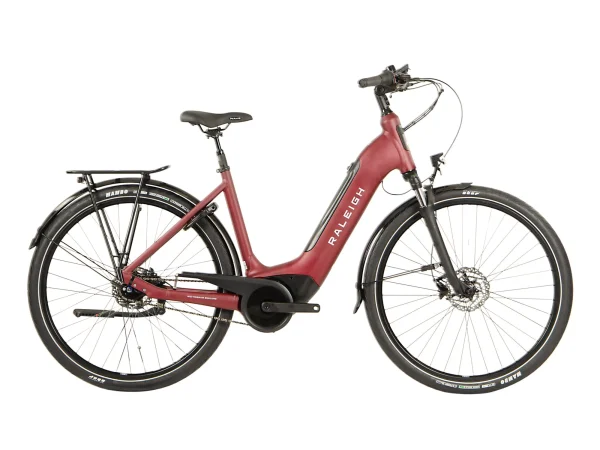 Key Features of the Raleigh Motus ebike
| | |
| --- | --- |
| Frame | 6061 Aluminium step-through frame |
| Motor | Bosch active line plus 50Nm Torque |
| Battery | Bosch 500Wh Lithium-ion removable battery |
| Range | Up to 130km (80 miles) |
| Weight | 28kg |
Reasons to buy the Raleigh Motus electric bike
Massive range and established components on the Raleigh Motus mean it is a trusted eBike you can rely on.
Best price for the Raleigh Motus e-bike
Buy the Raleigh Motus Grand Tour for £1,999 from Tredz
---
Cannondale Adventure Neo 4 electric
Trivelo Score 4 / 5
Your not seeing things. The Cannondale and Raleigh are twins separated at birth. The Cannondale is 2kg lighter than the Raleigh and has no front suspension. The reason for including it in our list of the best electric bikes for Seniors is my love of Cannondale. I've owned 5 Cannondales over the years and at last count ridden more than 20.
With 9 speeds from Shimano Altus gearing the Cannondale is suited to hills and offers a stable ride. More than 20kg you will struggle to lift it but it is not the heaviest here. The Cannondale frame includes integrated cabling creating a smooth form and clean lines.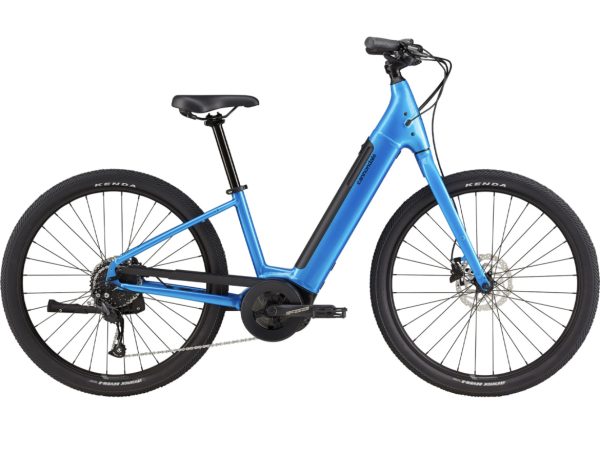 Key Features of the Cannondale Adventure Neo 4
| | |
| --- | --- |
| Frame | SmartForm C3 Alloy step-thru frame |
| Motor | Bosch active line plus 50Nm torque |
| Battery | Bosch PowerTube 400Wh |
| Range | Up to 120km (75 miles) |
| Weight | 26kg |
Reasons to buy the Cannondale Adventure Neo 4 electric
An eBike that will last and last. Brilliant components and trusted manufacturing.
Best price for the Cannondale Adventure Neo 4 electric
Buy the Cannondale Adventure Neo 4 electric for £1,999 from Tredz
---
Best Folding electric bike for Seniors UK
MiRider One
Trivelo Score – 4.5 / 5
The MiRider One is not your standard looking folding eBike. I've chosen it to be included within the best electric bikes for Seniors UK as it has a very stable ride compared to many folding eBikes. From my test of the MiRider One I found it stable and comfortable. The other key benefit for Seniors is it has a boost button to help with the pull away from zero. Very unusual in a UK spec eBike. It acts like a throttle and makes it easy to get going. Taking pressure off need to create speed as you get going. Perfect for any older rider.
The MiRider One has 16″ wheels that are small. It means the folded size is compact. I wanted to include a folding eBike for Seniors as not everyone has the space or location for a bike. So having something you can fold down means anyone can gain access to an eBike. I am 6'3″ tall so folding bikes can be a nervous experience for me that I know can also be a factor for Senior riders. With the MiRider One this is not a concern as the e-Bike allows you to ride with confidence. The ride feels solid with 1.75″ wide tyres that give a great grip.
The MiRider One uses a rear spring suspension unit at the foot of the seat post. This gives some more comfort for the rider. When I rode the bike I found it rigid initially but softened over first 50 miles. The suspension is very subtle in terms of suspension but enough to take the harshness out of potholes. With a single speed as well it is a very simple electric for any Senior to get on a ride.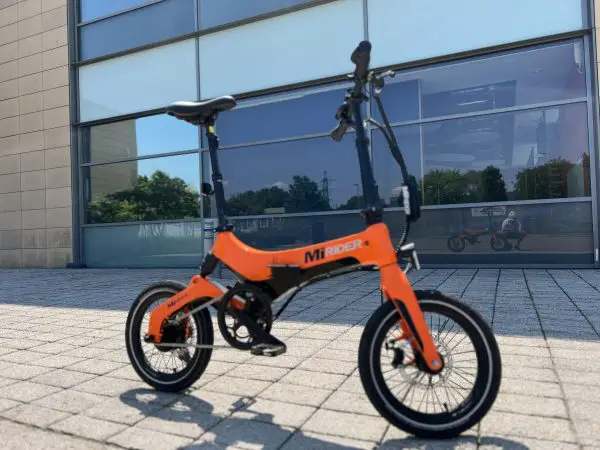 Key Features of the MiRider One Folding eBike
| | |
| --- | --- |
| Frame | Magnesium Alloy Folding frame |
| Motor | 250w with 40Nm Torque |
| Battery | 252Wh battery |
| Range | Up to 45 miles |
| Weight | 17.3kg |
Reasons to buy the MiRider One
The MiRider One is a comfortable and stable folding eBike. Easy to ride with a handy boost function and can fold down into a compact size making storage easy.
For more information on the MiRider One read our full review. Full specifications and real life battery experience.
See the video review for more insight.
Best price for the MiRider One
Buy the MiRider One for £1,595 direct from MiRider
---
Buying considerations for Seniors buying eBikes
Seniors, like any other group of cyclists, consider several key factors when purchasing an electric bike (e-bike). However, seniors often prioritize factors that enhance comfort, safety, and ease of use. Here are the key factors that seniors should consider before buying an e-bike:
Frame design – Go for a step through frame that allows ease of using the bike as you mount and dismount.
Gearing – Consider how you want to use the eBike. Many eBikes are single speed and easy to use with the power assisting you. If you are planning on using the eBike on hilly areas you may want to consider getting an electric bike with gears to accomodate this.
Motor power – UK eBikes are limited in the power of the motor but that being said you don't want an underpowered eBike. Look for a 250w motor that is the maximum permitted in the UK.
Weight – Some eBikes can be very heavy due to the battery and inner workings. Consider how much you will need to lift the eBike around when using it. A lighter eBike is likely to suit you much more.
Comfort – Being comfortable while riding is key. Make sure you are comfortable on whatever eBike you choose. If the saddle is the only thing you don't like on a bike remember that can easily be changed.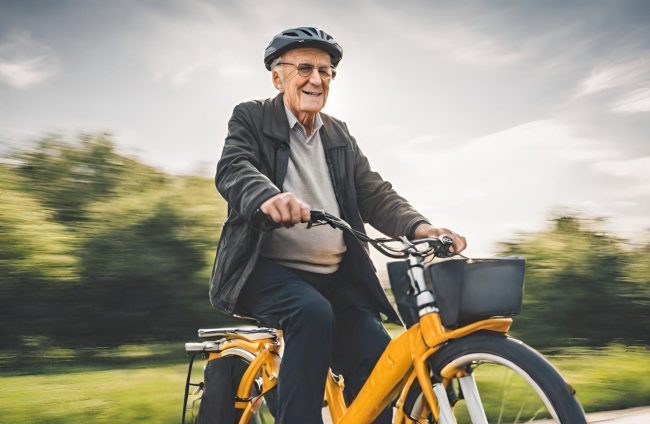 Recognising that there are a number of concerns from older cyclists with eBikes below are answers to those key questions. Helping you have confidence before you buy an electric bike.
Are electric bikes safe?
Electric bikes and scooters have received lots of press coverage for fire related incidents. Electric bike technology has advanced exponentially over the past decade. The modern Lithium Ion batteries achieving ranges of over 100 miles in some instances. Like electric cars they are advancing daily. Electric Bike fires are a consideration especially if you import a bike from an unknown source. All the bikes in our list of the best electric bikes for Seniors UK have been chosen from our relationship with the suppliers and experience with the bikes. For more information on safety tips for electric bike batteries check our article on are eBike batteries safe.
Is Cycling good for over 65's?
Yes, although this has to consider that everyone has a different medical history. Cycling generally can be an excellent form of physical activity and for people over the age of 65. Big caveat on this statement is I am limiting this to people in good health and have the physical capability to ride a bicycle. Electric bikes make exercise easier and more accessible hence recommending them for Seniors. Electric bikes have torque sensors that measure you pedalling effort and supplement this with an electric motor. Imagine not having to put in more effort as you reach a hill or cycle into the wind. That is where eBikes can make cycling perfect exercise for over 65's.
It helps with cardiovascular and joint health plus giving your muscles a work out. As muscles deteriate with age any exercise to keep building and maintaining muscle strength is essential. Cycling helps do this for you leg muscles. Not only these. Also your core and back muscles benefit from this.
Beyond obvious physical exercise benefits don't ignore mental health from being outdoors and giving you more opportunity for meeting people. Join a cycling club and connect with others!
Are eBikes good for old people?
To ensure you stay safe and enjoy cycling on en eBike it is well worth considering the following safety tips. These tips help ensure you enjoy your cycling and your eBike gets used and not left gathering dust in the garage!
Consult with a Healthcare Provider: Before starting any new exercise routine, especially if you have underlying health conditions or are taking medications, it's a good idea to consult with your healthcare provider to ensure that cycling is safe for you.
Choose the Right Bicycle: Select a bicycle that is appropriate for your physical condition and comfort. Consider options like electric bikes (e-bikes) if you need assistance with pedaling.
Safety Gear: Always wear a helmet and appropriate safety gear when cycling to protect against head injuries and other potential accidents.
Start Slowly: If you're new to cycling or haven't ridden in a while, start with shorter, easier rides and gradually increase the duration and intensity as your fitness level improves.
Stay Hydrated: Especially in hot weather, make sure to drink plenty of water to stay hydrated.
Are electric bikes high maintenance?
No, electric bikes are not high maintenance. They need the same maintenance in many respscts compared to regular bikes. The electric parts, like the motor and battery, are built to be durable and usually don't need a lot of attention. An electric bike batttery from any of the eBikes we recommend will generally last up to 10 years.
My recommended eBike, the Tenways CGO800s needs less maintenance due to the belt drive. It is partly why I recommend it for Seniors looking for an electric bike. No need to consider oiling and cleaning a chain.
With the electrics you need to ensure you charge the battery regularly and monitor while charging. If the battery appears to have swollen, hot or giving off any smells do not ride it. Get it seen by a bike maintenance specialist before using again.
What is the difference between an e-Bike and an electric bike?
An e-Bike is the same as an electric bike. They both mean a bicycle that has a little motor and a battery to help you pedal easier. So, when people say e-Bike or electric bike, they're talking about the same thing – a bike that gives you a boost when you're pedaling.
Are eBikes legal in the UK?
Before buying an eBike in the UK you may be concerned that they are not legal. That is not the case and eBikes are legal in the UK assuming you buy a Class 1 eBike. There are 3 classes of eBikes but you are only legally permitted to use a Class 1 in the UK. All the eBikes in our list of the best electric bikes for Seniors in the UK are safe and legal to use and buy. So please buy with confidence. The Class 1 eBike is classified with the following specifications:
The eBike must use pedal assistance without any throttle
The motor assistance is limited to speeds up to 16mph
The motor must be no more than 250w in power
---
Follow us on social media