This weeks blog comes from Vicky a nutrition specialist who has been reviewing the Gaia Tribe Vegan Superfoods Drinkable meal. Vicky has a Masters Degree in Sport and Exercise Nutrition and extensive experience supporting endurance athletes with nutrition to improve performance and lose weight. As well as her Masters she has a wealth of sports science and nutrition qualifications making her perfect to review the Gaia Tribe Vegan Superfoods Drinkable Meal.
Summary of the Product 
Gaia Tribe Vegan Superfoods Drinkable Meal comes in a packet of powder with an accompanying scoop to match the recommended method of mixture. It can be used as a meal replacement or a protein supplement. The recommendation is to mix 2 scoops with 500ml of water, although there is a suggestion for the use of 1 or 3 scoops. I learnt that it is best to add the powder to the water and shake vigorously for at least 15 seconds.
Trivelo Rating – 3 / 5
First Impressions
I was really impressed by the very apparent environmentally friendly and conscientious ethos of the company. The packaging was recycled and minimal. Information on the packaging was brief, but told me everything I needed to know in a clear and concise way. Conveniently the package included a plastic scoop and a plastic shaker bottle.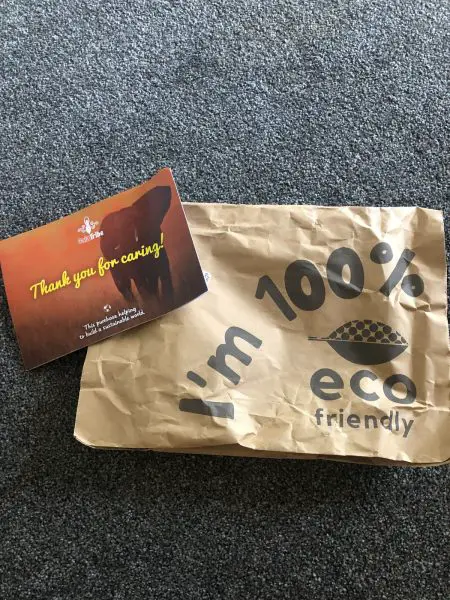 The information card within the package provided a summary of the charitable work that is done by the company. 10% of profits are donated to one of three charities – planting a tree, cleaning up the ocean and saving wildlife in Africa. The packaging and shaker bottle all appear to be on brand with similar colours and fonts.
Nutritional information on Gaia Tribe
Two scoops and 500mls of water provides the consumer with 258 kcal, 25.9g of protein and 31.8g carbohydrate.  The product is vegan with the protein coming from pea and soya and the sweetness coming from stevia.. The product is marketed as a meal replacement and contains a number of real food ingredients that are densely packed with vitamins and minerals, including alfalfa and spirulina. The product is also a convenient protein supplement for athletes looking to recover immediately after training.
For more complex nutritional needs we have also reviewed the Nourished 3D printed vitamin supplements. These incredible chewy tablets allow you to prescibe your exact nutritional mix based on your physical needs. Well worth a read.
Taste of the product
There are two different flavours of this product – chocolate and mixed berries. The chocolate drink has a distinctive chocolate taste but also has a slight aftertaste from the stevia which is not so noticeable with the mixed berries. The mixed berry shake had a nice taste and did taste fruity. It gave a sense of freshness and seemed to me to be less filling than the chocolate drink.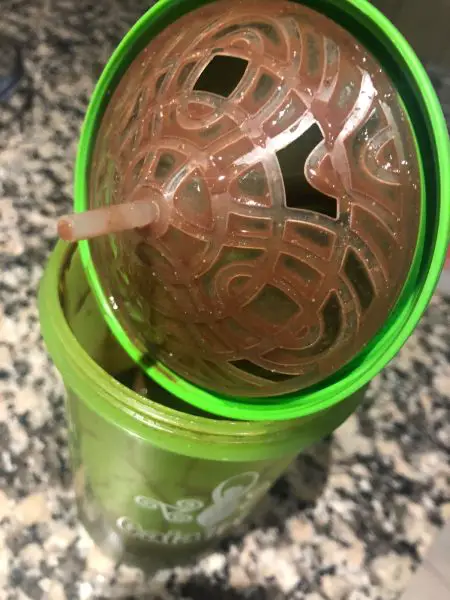 Pros & Cons
Pros
For a busy athlete, this is a really good protein shake with more protein and less calories than whole food alternatives. The superfood ingredients imply that you are consuming a range of vitamins and minerals, but there is no nutritional information on the quantities. For me it was a great post-training supplement to use when I was unable to eat a meal. As well as being convenient I felt like I was doing a small bit towards protecting the environment through supporting this company.
Cons
I found the powder quite difficult to disperse fully with the water. 2 scoops and 500ml was quite thick and the chocolate powder did not fully dissolve. This was improved with slightly less powder / more water added. The mixed berry flavoured powder seemed to dissolve much easier and gave a much smoother drink. I found the aftertaste of stevia a bit strong with the chocolate powder, but this did not happen with the mixed berry. On reorder, having an option to not receive an additional scoop would be a suggestion to minimise the use of plastic.
Would I buy this?
If I was looking for a meal replacement or protein supplement I would definitely consider Gaia Tribe Vegan Superfood Meal Replacement Powder. However, there are some strong contenders with lower calories for a similar amount of protein. I would also use this product for baking.
If you are looking for a healthy breakfast product to work alongside the Gaia Tribe Superfoods check our review of the Surreal range of cereals. Cat from the Trivelo team has been using these as part of her nutrition plan and shares her thoughts on which flavour she couldn't resist.
Best Price for Gaia Tribe Vegan Superfoods
Buy the Gaia Tribe Vegan Superfoods for £59.97 Direct from Gaia Tribe
For an extra 10% off the price use the Trivelo special discount code of TRIVELOBIKES
Video Review of Gaia Tribe Vegan Superfoods
Hear Vicky talk about her testing of the Gaia Tribe Vegan Superfoods Drinkable Meal. How best to mix the drink and her favourite flavour.