Nourished Review – Personalised Vitamins for athletes of all levels. Jason is a long term Ironman and long distance cyclist. Competing at the top end of racing since the early days in 2005 and doing the Nourished Review looking at nutrition for performance.
Introduction to Jason
I am a multiple Ironman Triathlon Finisher with a current PB of 9:16 and have been training and competing for approximately 15 years. Competing at the front end of Age Group Triathlon requires me to stay on top of my nutritional game.  I have a strong interest in any nutritional supplements that help my well-being and provide a cornerstone to my training and racing.
Ordering my Nourished stack
For my review of the Nourished personalised vitamins I'm starting at the beginning with the ordering process. The Get Nourished website is simple, elegant and easy to navigate, it is also full of all the information you would expect about their product. 
Their product is called, what I will refer to throughout this review, 'a stack'.  To get started you have a choice of two options: 
Choose a Life Stack – these are stacks that are made up of the vitamins and minerals that are carefully formulated to promote key benefits based on your lifestyle or goals.
Personalise your own Stack – As the option suggests. You can choose your own vitamins and minerals to be stacked if you know exactly what you require, or you can also do an online quiz which will ask you a few questions and then a recommendation is created. This can also be adjusted before checkout.
It is a stack because of the way Nourished 'stack' up the vitamins and minerals into a single 3D printed jellied sweet.  Going through the process of the quiz was straight forward and fast, within a few minutes a I had my own stack ready to put in my basket. Register for an account along the way and my stack had been ordered. 
You can also sign up to a subscription service with Nourished where you automatically receive a stack each month.
Bespoke Nutrition Selection with Nourished
My Nourished vitamin stack consisted of:
Tart Cherry – Rich anti-oxidant, improves endurance and athletic performance, improves cognitive brain function
Maca Powder – Boosts energy levels, Enhance memory and brain functionality
K2-Vital Delta – Prevents blood clotting and heart disease, supports bone health
Beta Glucan – Stimulates the immune system, maintains a healthy gut microbiome, helps reduce cholesterol levels
Silica – Strengthens bones, joints and teeth, aids with stomach and digestive disorders
Lactospore Probiotic – Fortifies immune system function, improves gut health & digestion, enhances absorption of minerals
Cordyceps – Improves stamina and athletic performance, supports liver health, aids inflammation reduction.
For protein shake nutrition read our review of the Protein Works 360 Complete Meal Replacement. Protein Works have developed a real alternative Huel that will replace a breakfast or lunch meal.
First Impressions of Get Nourished
My stack arrived around 5 days of ordering. Which I think is reasonable considering they are bespoke. The box is quite nice and upon opening it all the stacks are in individual packets all lined up in their own slot, rather just thrown in which is a nice touch.
Each individual packet also has your name printed on it for an extra sense of individualisation. Plus, an 'Enjoy by' date.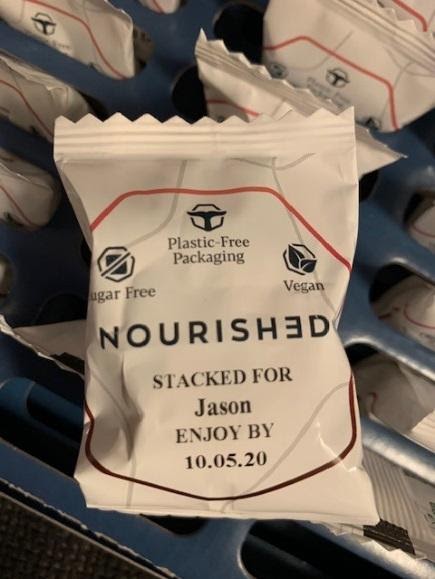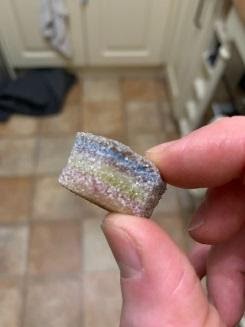 At this point I would like to also mention that everything that goes into the packaging here is plastic free and biodegradable. All ingredients are sustainable and primarily sourced within the UK. This is great to see and a line that others can follow. 
Nourished Vitamins Shape & Size
The 'Stack' itself can only be described as a very large fruit pastille. To maintain the Nourished 'no sugar' stance they coat their stacks in a natural sweetener called Erythritol. It looks like sugar, has the crunch of sugar but none of the negatives of sugar. This will certainly help 'trick' the mind into thinking you are having a sugar hit. Something that will no-dauntedly help diabetes sufferers! 
Sizing it next to a £2 coin was the closest everyday object I could find. Similar in diameter and each coloured disc layer is approximately the thickness of a £2 coin too. I can only imagine that each 'layer' is one of the vitamins/minerals of my stack. 
If you are looking for energy bar alternative options check out our review of Voom. Power bars with some unusual ingredients.
What do Nourished personalised vitamins taste like?
What we are waiting for! If anyone has ever tried Cliff Bar Shot blocks before, the texture of the Nourished stack is very similar to those, soft yet chewy. They taste amazing too, have the right amount of sweetness and a real quality taste to them. There was no bad after taste or requirement to swallow it whole or with minimal chewing to keep the taste away. On first impressions, I could quite happily eat the entire box in a single sitting. 
Weekly review of the Nourished stack
I decided to stop taking all my regular vitamins whilst reviewing Nourished. Trying to ensure that if anything did change in my mood/body/mind etc it would rule out any conflicts with other vitamins/minerals. Not very scientific but it will do. 
After a week of having a Nourished Stack each morning before breakfast, which is when I take all my vitamins, I noticed a slight change in concentration levels at work. My day to day work can be very boring, mundane and repetitive. I research, design and implement Educational Syllabus's for a Defence College. So reading through extensive documents and literature day in-day out. Whether or not I can attribute an increased sense of 'enthusiasm or concentration' to these stacks is anyone's guess really. However, being more productive can only be a good thing regardless of where it comes from. 
Week 2 yielded similar results, and the taste was still as good as it was with the first one. No notice in an increase in performance whilst training, but then I am not really training as much as I normally do now as I am awaiting an operation. 
Weeks 3 & 4 pass by in a similar fashion and by day 30 I was left feeling disappointed that it was the last stack. These have been one of the nicest tasting vitamin products I have ever tasted. 
Summary of Nourished Review
I think this is a great concept and something that I haven't really seen before, stacking all the supplements you may need into one easy to chew 'sweet' would appeal to a lot of people in my opinion. I enjoyed eating the stack every day due to its insanely nice taste. The packaging is great with it being decomposable and sustainable, also the packets are easy to open, and the all-round presentation is spot on, which all adds up to a fantastic package. 
The online ordering experience and user interface of the website is smooth, quick and does exactly what it needs to do, recommending what you may need or letting you choose what you like are the only two options that you really need. No cluttering or trying to get you add other things to your basket, which is always a big positive. 
No sugar is paramount in todays society where diabetes and obesity are rife and Nourished have cracked this with their use of a natural sweetener. 
I would highly recommend these stacks to anyone. Priced at £40 for a month's supply might seem expensive, but you can easily spend that on other products, certainly in the sports nutrition world, that won't help you like the ingredients in these stacks can. Its great to see ingredients such as Cordyceps, Co-enzyme Q10, Maca Powder amongst the others in there, these are great supplements to add to your sports nutrition stable. 
Are Nourished Vitamins Safe?
I am not sure if obtaining the informed-sport batch tested certificate would be something the team at Nourished might want to investigate in the future if they go down the sports supplement route. Might be worth considering.
Look below for more information on Nourished and how to order your own stacks. 
Thanks again to the team at Trivelo for giving me the opportunity to test a month's supply of Nourished. 
Best Price for Nourished Personalised Vitamins
Buy Yours Now – Buy your supply of the Nourished personalised nutrition stack.  Select the perfect blend of nutrients that works for you. 
Discount code for Nourished Vitamins
50% off personalised blends (RRP £39.99) – Use code TRIVELO50
20% off life stacks (RRP £29.99) – Use code TRIVELO20
For more reviews from Jason check out his review of the Aftershokz Aeropex Bone Conduction Headphones.  More innovative products to help you move faster.