If you're asking yourself the question "what type of bike can I use in a triathlon"? then it's probably safe to assume you are new to the sport. So our blog this week will help you understand the bike options available to you.
Official Triathlon Rules for triathlon bikes
Let's start with the official stuff. According to British Triathlon competition rules, there is nothing to state that a certain bike type must be used. Instead, the focus is more on competitors ensuring that 'his or her cycle is in a safe and roadworthy condition'. Unsafe cycles will not be allowed to start any competitive triathlon race.
It is important to know that your bike will be checked before the start of a race and normally at the point you enter the start, or transition area. So ensure that your handle bar end plugs are present and that your wheels are running smoothly and brakes are in good working order. 
So when you're starting out with triathlon any bike, in good working order, will do. But, if you're concerned and want to check I suggest you visit the equipment section of British Triathlon competition rules but I warn you it does get quite nerdy on bike specifications, frame dimensions, ground clearance and wheel diameter, but unless you turn up on race day expecting to race a motorised, wooden penny farthing you'll be fine.
So, if any bike type can be used in triathlon, there are other factors to consider when selecting a bike for your triathlon. For example, whether you plan to do more than one triathlon as the bike specification will vary based on your ability and aspiration. We will get to bike specification later in this article.
What bike types are suitable for triathlon?
There are many bike types out there in all shapes and sizes but the main ones that make sense for triathlon include Road bikes, Time Trial or TT bikes, Mountain bikes MTB or Hybrids that are a cross between a road and mountain bike.  It's worth mentioning that specific MTB triathlon races do exist. These are called 'cross' or 'off-road' triathlons. So for specialist triathlon races check with the organisers if there are specific bike criteria they'd recommend or enforce. But I'm sure common sense would stop you entering an off road winter triathlon riding a bike designed for the road!
Road Bike
Time Trial Bike
Mountain Bike
Hybrid Bike
Main bike types for a triathlon
The Road bike or 'Roadie' This is what you see used in the famous road races like the Tour De France. These bike frames are very light weight with drop down, curved handlebars . This bike type is by far the most popular choice for a triathlon.
The Time Trial bike or 'TT' is a very specific bike similar to a road bike  but designed to be more aerodynamic. These are usually faster than the road bike   given the reduced wind resistance due to the riding position you are forced to adopt. A very popular, but generally more expensive option. Most people will start triathlon on a road bike and move to a TT later. Having said that, if you are planning on doing flat long distance races with limited climbing then a time trial bike is worth considering. If you do decide on a TT bike then remember the riding position can feel unnatural to begin with. I'd recommend investing in a professional bike fitting, it's worth every penny and will ensure you get most out of the bike performance. If you're unsure about the riding position you can ask the bike fitter for a slightly less aggressive position to get you started.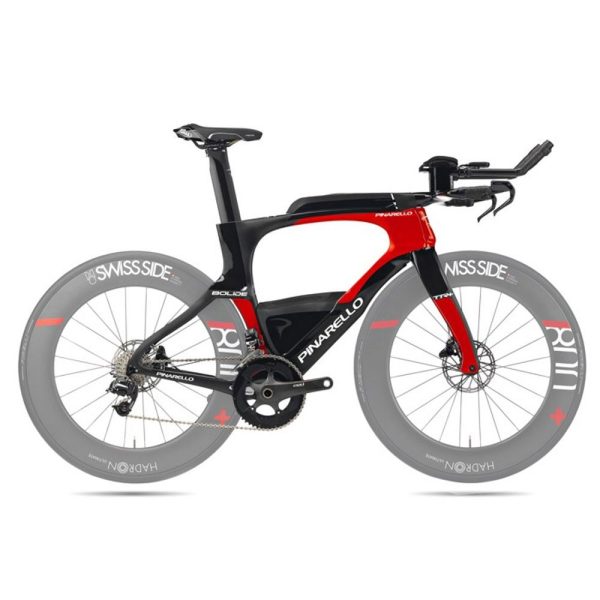 The Mountain Bike or 'MTB'  is a bicycle with a light but sturdy frame, wide deep-treaded tyres and multiple gears, originally designed for riding off road and on steep hilly or even mountainous terrain. Aside from the difference in tyre size and tread what set the mountain bike apart from other bike types  is the presence of suspension and wide flat handle bars compared to Road and TT bikes.
The Hybrid Bike, this will have wider tyres that the road or TT and ride more comfortably than other bike types. The riding position is more upright and the kind of bike many people use for commuting to work.  If you only plan on one triathlon, then this may be a good option as the bike will be versatile bike for everyday use.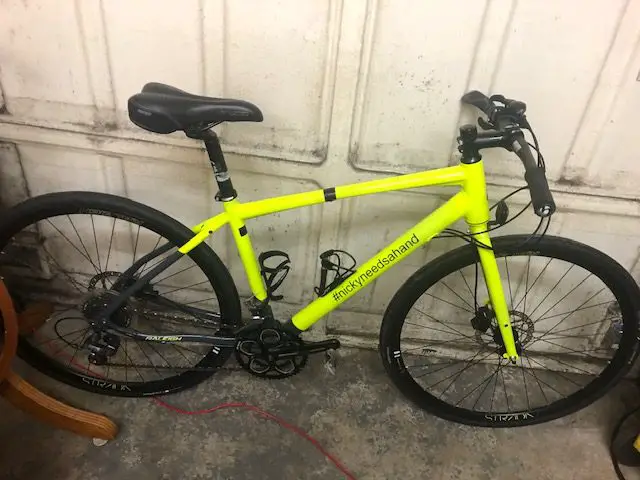 How to select the best specification for your triathlon bike
Once you've selected the best bike type for your triathlon you are faced with the daunting array of options. But to keep it simple there are really only three things to consider, type of frame, the wheelset and groupset.
Type of Frame
The main frame materials available include carbon, steel, aluminimum and even titantium. For triathlon and in general you want your frame to be as light as your wallet can afford. The lighter the bike the less energy you need to exert. But you also want to be comfortable. The best mix for you first triathlon will be a lightweight and comfortable especillally if you a planning an Olypic distance triathlon or longer.
Carbon fibre is a light stiff material and a popular choice for triathlon bike. However, it is an expensive option. Plus it can be a material prone to cracking and something to mindful of when buying a bike seconhand.
Steel bikes are much cheaper and very robust. But that rigid reliance means it will also be the heaviest option and will rust if not looked after.  So not the best option for triathlon in my view.
Aluminium bikes are cheaper and lightweight, albeit not quite as light as a carbon fibre bike. When cost is a factor then you will find bikes that are a blend of both Carbon fibre and aluminium which give you the benefits of a cheaper bike that's lighter than full aluminimum frame.
Titanium is heavier than aluminium and more expensive so i'd recommend aluminium if you have the choice.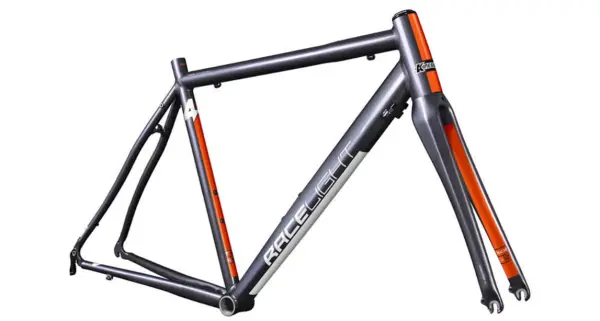 Groupset
The groupset you select for your bike are the parts of your bike that give you forward motion (the drivetrain: chainset, bottom bracket, shifters, chain, cassette & derailleurs) or the parts that slow you down (braking: brakes and brake levers). The main manufactures offering groupsets that you will come across include Shimano, SRAM and Campagnolo. It's personal choice what you go for. I run with Shimano on my road bike and SRAM on my TT. 
Shimano – Shimano 105, Ultegra, Dura Ace and Tiagra
SRAM – Apex,SRAM Force and Rival
Campagnolo – Veloce, Cetaur, Potenza, Chorus, Record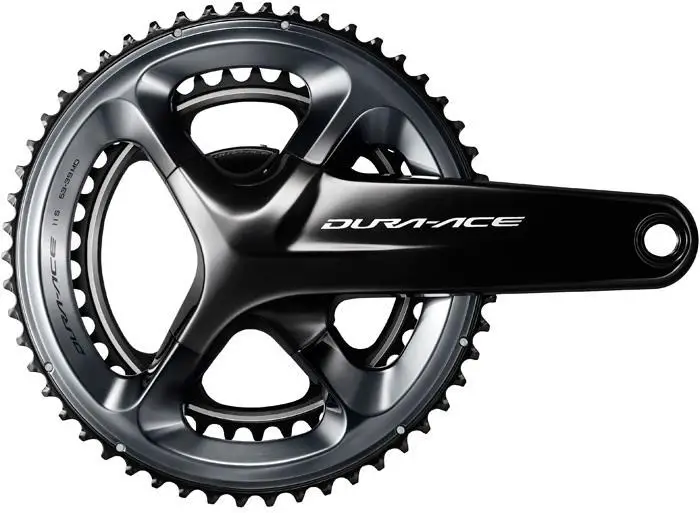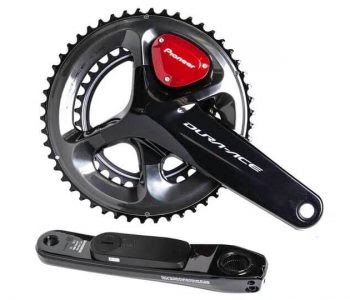 Wheelset
Another important element to consider are your wheels When selecting the bike for the first triathlon the wheels you select can take transform the look of your bike and can save you precious seconds when you're up against the clock, plus there's nothing quite so gorgeous looking as a set of really deep carbon wheels. The right wheelset is an easy path to increase speed. If you want to get a better time on the bike section of your upcoming triathlon or go for faster time trial times, then a wheel upgrade is a great way to achieve this. 
There is so much to choose from. What is the difference between triathlon wheels and the best road bike wheels? How do you choose the right wheels for time trials and triathlons? To be honest its something I'd worry about if you progress in the aport of triathlon. What will be imporatnt however is investing in high quality tyres. The last thing you want during n evebt is a puncture and a decent set of tyres will help reduce the chances of this happening.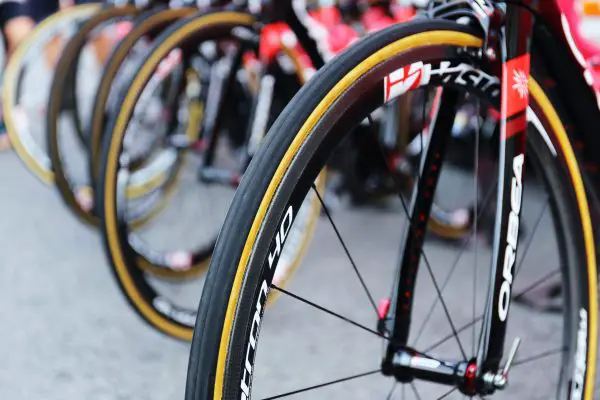 Is it worth getting a TT bike for a triathlon?
So.  Do you need one?  I think we all fundamentally know the answer here without really asking.  Do you want one?  For sure we all want a beautiful carbon TT machine to make us feel faster and carve through the pack to wow our loved ones who patiently wait at the finish line for us to crawl in.  TT bikes are often not lighter and as a consequence not quicker than a road bike.  If you are Dave Scott reborn then this is not the case and there are huge gains to be made from using a TT bike but for the rest of us the reality may not be so cut and dry.
6 things to help decide if you need a TT bike to do a triathlon
To help guide you through this minefield of n+1 bike purchasing we have devised the following set of principles.  Answer yes to all of these and head straight to buy that TT bike you have been pondering over the past two seasons.
Are you planning on tucking into the aero position for at least half of the bike leg?
Can you climb hills comfortably without the luxury of a triple on the front?
Are you confident riding in a crowd?
Does the prospect of not being able to put on the anchors when you need not trouble you?
Do you have another road bike already that you can use as a regular road machine preserving your TT for "best"?
Do you weigh less than 100KG as some of those target bikes have a weight limit?
Finding the right bike for you
If you can answer yes to the above questions then well worth looking at triathlon bikes for your next race.  We do love a TT bike at Trivelo but we do see lots of folk selling on their pride and joy having covered next to no miles so make sure that you find a bike that is right for you.  Get test rides lined up.
If you are looking for triathlon bike inspiration check our article with of 9 of the best triathlon bikes.  A genuine guide to ultimate TT bikes.
Also check out our round up of the best triathlon saddles for anyone looking at triathlon bikes.
You can compete and perform well on a road bike.  Undoubtedly.  If you want to race in a road bike check our article on the 15 best road bikes for under £1500.
What bike for Triathlon FAQ
What is a triathlon bike?
Triathlon bikes are bicycles used by triathletes racing in triathlons over a variety of distances.  You do not need to use a triathlon bike to compete in a triathlon and you are able to use road bikes as an alternative.  Forget trying to do it on a BMX but alternatives are possible.  The reasoning for a triathlon bike is to enable a triathlete to complete the bike leg and move into run with enough energy in your legs to finish.  The ability to transition from cycling to running with minimal impact is the key to triathlon success.   
Why are TT bicycles so expensive?
Compared to equivalent road bicycles, TT bikes are comparable in terms of price.  You can spend thousands on a road bike in the same way as you can invest in a triathlon bicycle.  TT bicycles don't tend to produce entry level budget models.  This means starting prices can look more than entry level road bikes which is why they appear more expensive.
What is the Cheapest triathlon bike?
Read our review of the Cannondale Slice Hi-Mod triathlon bike that has been modified by one the Trivelo team.  Cannondale are a manufacturer famous for producing high end aluminium frames. The company launched its first full carbon fibre frame (the Synapse) in 2005. The Cannondale Slice HiMod was one of their earliest full fibre time trial bikes.  Buying a second hand frame and building up the components can deliver a cheap and fast triathlon bike.   
What is the difference between a TT bike and a triathlon bike?
Many bike manufacturers will offer the same bike for both triathlon and TT's.  The approach taken is to adjust the bike to suit the riders' preferred event.  Dedicated triathlon bikes tend to have a steeper seat tube angle in the geometry.  This pushes the hips forward and saves the hamstrings for the run with more energy reserved for the final phase of triathlon.  TT bikes have to adhere to International Cycling Union (UCI) rules.  This requires that the saddle nose must be 5cm from the centre of the bottom bracket.