Our latest article has Nick sharing his thoughts on the Oladance Open Ear Headphones Review. Nick is a hardcore runner & cyclist but previously resisted listening to music or using headphones. Would the Oladance headphones tempt him to shift his training running & training habits?
Introduction to Nick
As a road and trail runner, prior to trying these headphones I haven't run with headphones before. Preferring to have some free headspace and take in the sights and sounds of my runs without listening to any music, etc. So, when an opportunity came up to trial a pair of "running" headphones, it was a journey into the unknown for me on a number of levels.
A key concern was would I be able to listen to music but retain my awareness of what was going on around me, and, most of all, would it be safe to listen given having roads to cross etc.
I've been running & cycling with the headphones for nearly two months now, so I'm ready now to give you my honest opinion.
What is in the box
The box looks very smart and sleek, and the packaging is impressive. A guide is tucked away in a sleeve inside the box, and the charging cable is tucked away in its own compartment. But the main headphones are in their own beautifully-curved dark grey case, which satisfyingly snaps shut when closing the lid. The left headphone sits on the left, and the right on the right, which makes sense and helps when initially working out which one is which.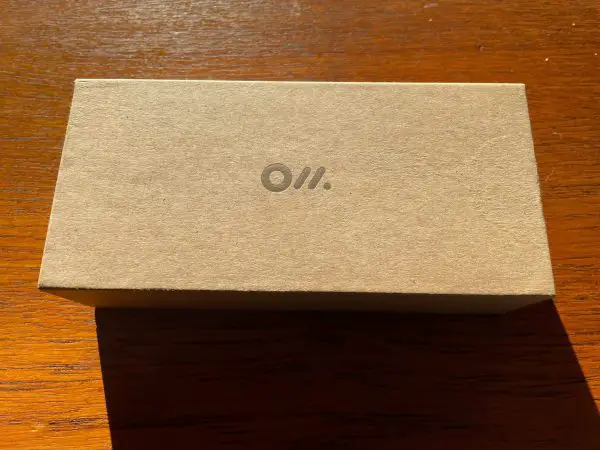 ---
First Impressions
The headphones seem beautifully made, and are ergonomically satisfying. The superior design makes taking them out of the box a nice experience. When putting them back in, they magnetically snap into place which is also a nice touch.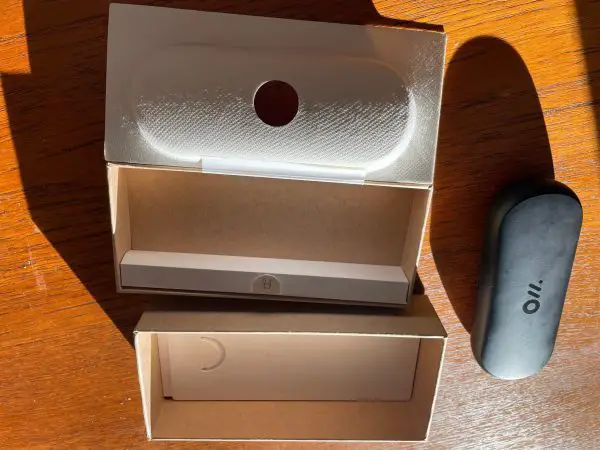 ---
Design of the headphones
Having only worn Air Pods before, but being aware of bone conductor headphones having seen other runners wearing them, my expectation was that they would wrap round the head but these are two distinct headphones which are completely separate.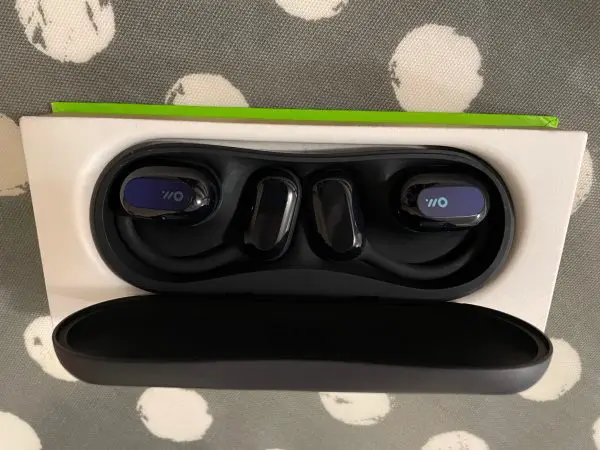 Putting them on took me a little getting used to but now it's a fairly unconscious automatic action. The headphones simply rotate 90 degrees round each year until they are fixed on, with the headphone piece sitting directly over the ear canal.
Comfort
Once on, they feel fairly light and I am not too aware of them, which must be a good thing. They're not obtrusive but feel quite comfortable. I have run both on the trails and roads with them, and so far they have been secure and I haven't been concerned that either will fall off. They stay securely in place on my ears. I've also worn them under a bobble hat, and they haven't squeezed my head and have still been comfortable.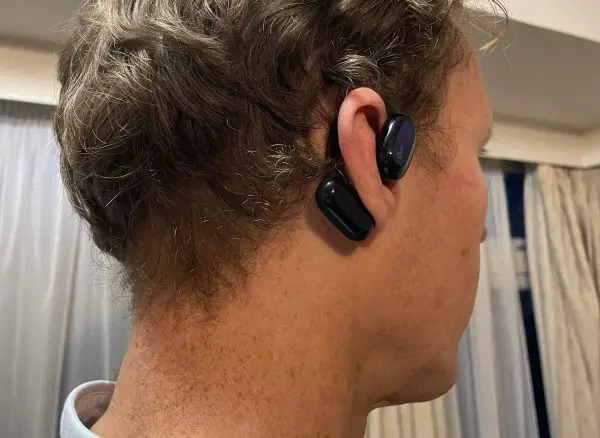 Audio Quality
The sound quality is superb. I went into a busy town with them and had to turn them up so I could hear the music I was listening to better but the volume is perfectly ample, and when running on the trails I have the volume lower. My fear of not being able to hear external sounds has not come to pass, and, even though they sit over the ear, I can still hear what I need to. I've downloaded a smart Oladance app through which I've played around with the equaliser settings, but I have found that the basic setting is perfectly adequate. I listen to a variety of musical genres but, most of all heavy metal and rock, and I have found the sound quality to be superb.
Features
One tap on the right headphone stops and starts the music, and two taps on the right moves to the next song, with two taps on the left restarting the song or playing the previous one. Swiping up increases the volume and down reduces it. 
Initially, when running, I found this a fairly random process which didn't always result in the outcome I wanted. But, two months in, I'm getting more adept at it and am finding I am much better at controlling basic things like volume and track changing.
Changing artists or albums (are they still called that?!) still involves taking out your phone. But, in the main, once the album is picked, I'm off again.
Build Quality
A couple of months in, they still look pretty new. The finish is high quality, and they work perfectly. Also, the Bluetooth link to my IPhone has worked fine with no glitches/dropped signals.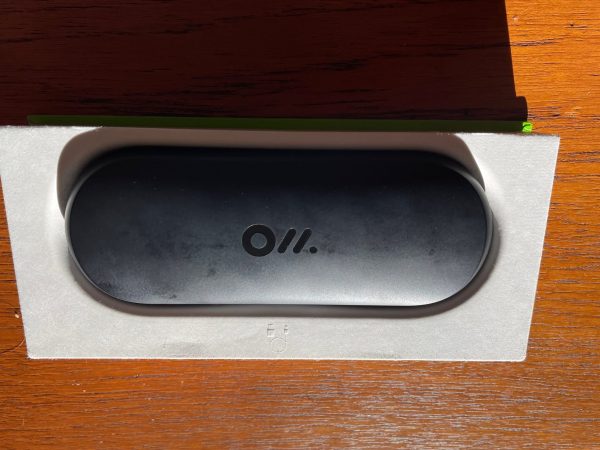 Battery Life
I think they have 16 hours once fully charged. I've used them fairly extensively and haven't had a problem with them ever running out. I've charged them after using them for around 10 hours, so I haven't tested fully whether 16 hours is correct or not. The case doesn't charge them when not plugged in to a USB socket, and apparently an extra charging case can be bought which acts like an Air Pod case and charges them when not plugged in. But, for me, the battery has been fully sufficient and I've not run out of power.
Pros and Cons of the headphones
It's all pros for me, and the cons around my initial lack of mastering the controls directly via the headphones have now disappeared. The pros are vast!
Review Summary for Oladance Open Ear Headphones
Trivelo Rating : 5 / 5
I've not been truly convinced to prefer running listening to music to running without. Running is my meditation. But on some long commute runs, or when I'm feeling tired and I need some distraction, listening to music through these has really come to the fore.
These headphones are outstanding. The sound quality is excellent, they're easy to put on, are unobtrusive and absolutely do the job they're designed for. And they look quite cool. So I'm in!
For those thinking of new running shoes we have compared two of the best from Asics. Read our review of the Asics Gel Nimbus vs Asics Gel Cumulus. Which do we recommend and what should you consider if thinking of buying the Asics Nimbus running shoes?
Would I recommend you buy these?
The RRP I believe is £200 but I found them on the web for around £170. Would I spend that if I'm not fully committed to using them all the time? Having tried them out now, I don't think I'd want to be without them and would commit even at that price. So the answer is yes.
---
Best Price for the Oladance Open Ear Headphones
Buy the Oladance Open Ear Headphones for £199.99 from Oladance
If you are struggling to find time for your running read our 7 reasons why you should exercise at lunchtime. Not just a win for fitness but for your general well-being.
Video Review of Oladance Headphones
Hear from Nick direct from our YouTube channel with his review of the Oladance open ear headphones.