Early disclaimer on this review I have been using Protein Works Complete 360 for the past 6 months and I love it. I'm a proper fan boy. Through our reviews of nutrition meal shakes I stumbled upon it for a review and it has continued to be my go to Shake of choice. Check out the Protein Works Complete 360 Review a high protein nutritious shake.
---
Summary of Protein Works Complete 360 Review
Trivelo Score – 5 / 5
The Protein Works Complete 360 meal replacement is a perfect meal replacement. It is a real alternative to Huel who are viewed as the market leader. I have been using the shakes for over 6 months and reviewing the affects. First off, it tastes bloody lovely. I get no stomach pains or cramps that you can get with some high protein and fibre meal shakes. It is really filling and leaves me energised for any activity in the afternoon. If you have been considering using a meal replacement nutrition shake then look no further.
Pros & Cons
Pros
It tastes great and not like a fake nutrition shake
It is a great price for each shake (although the price is rising)
It can be made in seconds and ready for drinking
Cons
Not a low calorie meal shake if you are looking for a diet shake
None that I have found so far
---
Introduction to Protein Works
Protein Works are a UK based company who produce a range of supplements. Trivelo is focused on cycling and cyclist nutrition which aligns well with Protein Works who target sports nutrition. They produce a range of meal shakes and supplements. While looking at options for healthy nutrition I connected with them about a year ago and began reviewing their products.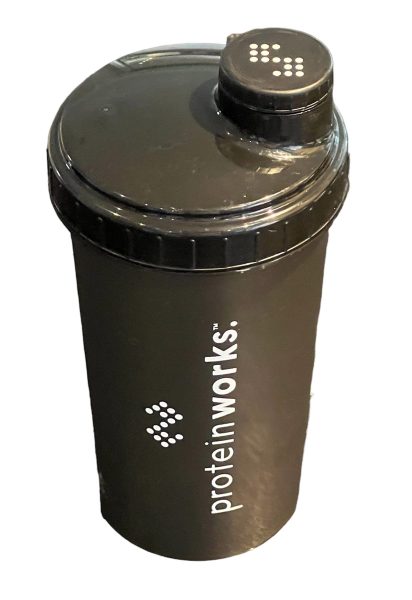 What is the Protein Works Complete 360 Meal Shake?
The Protein Works Complete 360 Meal Replacement Shake is a powder that you mix water and drink as a meal replacement. It is a high protein and fibre shake that you can make as a healthy breakfast or lunchtime meal replacement. Some of the key attributes that attracted me to it is that it is also low in fat and carbohydrates with a range of vitamins. This makes it ideal for training coupled with the fact it can be made in seconds and eaten easily around your training plans.
It isn't a diet meal replacement shake as it has 400 calories so there are much lower alternatives available. I was not looking for a calorie reducing option but something that allowed me to increase my protein specifically for cycling training.
Why is the Protein Works 360 Shake healthy?
Each Protein Works Complete 360 meal contains a mix of protein, carbs, fats & fibre. In addition to this it has 25 micronutrients and probiotics. The powder contains eight core ingredients. These include oats, a protein blend, flax seed, avocado oil, Medium Chain Triglycerides (MCTs) fats made from coconuts, and ashwagandha. This delivers a healthy meal alternative while also being palm oil free.
At 400 calories I take the Protein Works complete 360 meal replacement shake instead of lunch generally. I view this as an alternative to a sandwich. Generally trading a 600 calorie high fat option with a 400 calorie alternative with only 10g of fat. A bacon sandwich by comparison has around 30g of fat. I also manage my carbohydrate intake with the Protein Works Complete 360 Meal shake only 45g.
Taste of the Protein Works Complete 360 Shake
I have been using the double milk chocolate flavour. It tastes like a chocolate milkshake and has none of the common artificial or metallic taste of nutritional drinks. I find Huel by comparison very chemical tasting. The Protein Works Shake having been in the fridge is still something I look forwards to every day. The other key consideration about starting to use it instead of alternative conventional foods is it keeps me feeling full. I can take the Shake before or after exercise and not need to snack at all. Most alternatives I might have when commuting leave me hungry a couple of hours after. This is key for me in maintaining a healthy nutrition plan.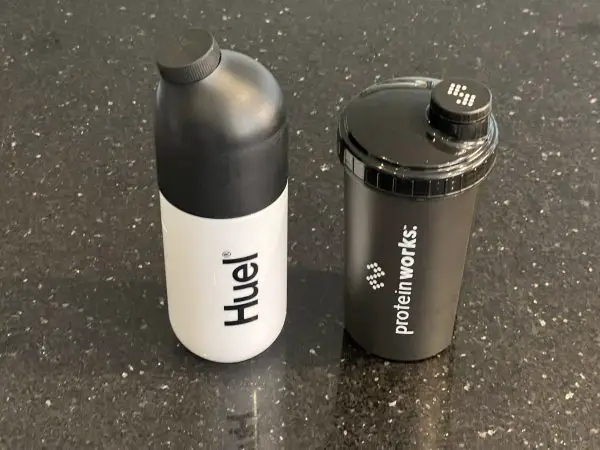 Protein Works Complete 360 Nutrition Information
Providing what I was looking for with a highly nutritious meal alternative delivering low carb, low fat, high protein and fibre it is a great alternative to Huel.
Per 100g serving
% RI* per
100g serving
Energy
1680kJ
20%
400kcal
Fat
10g
15%
– of which saturates
2.8g
12%
– of which monounsaturates
– of which polyunsaturates
Carbohydrate
45g
17%
– of which sugars
1.9g
2%
Fibre
9g
30%
Protein
30g
60%
Salt
0.32g
5%
Information from My Protein Works website
Best Price for Protein Works Complete 360 Meal Shake
Buy the Protein Works 360 Meal replacement Double milk chocolate 1kg bag for £20 direct from them currently discounted from £40 so half price. Try it in this small size and see what you think.
Or try the Vegan alternative from the Protein Works perfect if you are looking for a vegan alternative to Huel Black.
Best Alternatives to Protein Works Complete 360 Meal Shake
Huel is a hugely popular alternative. Read our deep dive comparison of Huel vs Protein Works Complete 360 Meal Replacement.
Gaia Tribe is a great Vegan specific meal replacement nutrition shake. Read our review of Gaia Tribe Superfoods Shake from Vicky.
Video of making Protein Works 360 Meal Replacement
See my video of making the Protein Works 360 Meal Replacement Shake. 30 seconds for a quick meal for breakfast or lunch.
---