This week we are looking at a Smart Bike Lights Review. Helen has put the See.Sense ICON3 smart bike lights under the spot light following testing the ICON2's. The guys at See.Sense claim they're more than just lights. So, this is what we thought after using the lights for the past few weeks.
Smart Bike Lights Experience
I live in the countryside, but my regular commute would be 50% urban, 50% countryside. I also enjoy cycle touring and carry lights for tunnels. As well as those unexpected long days when nothing goes to plan!   In addition to being a cyclist, I'm a driver too and I really hate it when cyclists either don't use lights at all, or have lights which you can't see. Unless you are a metre or two away.  As a driver and a cyclist in rural and urban areas, I want a light which can help me see, but also be seen. I was looking forward to seeing if the See.Sense Icon 3's 575 lumen front light and 350 lumen back light would do the trick.
Summary of the See.Sense ICON3 smart bike lights
Trivelo Score – 3/5
An innovative solution to bike lights that is best suited as a compliment to a conventional light. The mounting failed to be strong enough from testing and would need careful consideration before using. Mobile app is a nice touch to help compliment the smart bike lights.
Pros
Decent level of illumination from the lights
Intelligent light display based on real life use
Handy mobile app for tracking battery life
Cons
Mounting is fiddly
Pretty expensive as really best suited as an additional light
Best prices for the See.Sense ICON3 smart bike lights
Buy the See.Sense ICON3 smart bike lights for £179.99 from See.Sense direct
---
Introduction to See.Sense smart bike lights
I first heard about See.Sense smart bike lights on social media.  I remember clicking through to read more about them because I was intrigued by the reactive nature of the lights. Recently I purchased new lights for my commute to work. They were bulky, heavy and required a battery pack. However, they were ridiculously bright!  So, when I got the opportunity to test the See.Sense ICON3 smart bike lights, I was really excited to give them a go. My first chance to try out some smart bike lights!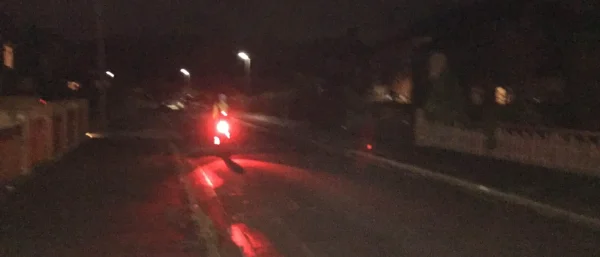 First impressions of the See.Sense ICON3
The bike lights were a lot smaller and even lighter (60g/light) than I had expected . However, the Icon2 certainly pack a punch when it comes to visibility. Manufacturers claim the bike lights make you visible up to 3km away.
The smart bike lights come with everything you need to get going straight away. USB chargers, a choice of mounts depending on whether you are riding a road or TT set up, elastic straps to secure the lights and instructions. Part of the packaging stuck to the light when I tried to take it out of the cardboard. But otherwise, I was impressed with the package and contents.
If considering a new GPS bike computer see our review of the CycPlus M2. A bargain GPS bike computer. But is it worth the money even though it is cheaper than many?
Charging the See.Sense ICON2 bike lights
Charging the ICON3 bike lights is via USB. This is great if you are commuting by bike and need to charge them up at your computer during the day. The first time you charge the lights, it takes around 10 hours. After that, it's 3 hours to fully charge the See.Sense ICON3. There is also a really handy charge indicator on the light, so you know when the battery is full.
See.Sense claim the ICON3 can run for 16 hours on 'reactive flash' mode. So, being caught out on the way home from work in winter is very unlikely if you keep an eye on the charging indicators on the lights themselves, but even better via the app.
The See.Sense ICON3 Mobile App
One really smart feature of the See.Sense Icon3 is the See.Sense app. This allows you to get low battery notifications and customize/control your lights via your phone. You can also receive theft alerts, send crash alerts and also share insights to improve rides for yourself and others.   It was really straight forward to find and download the app and then pair my lights to it.  If you are willing to allow access to your location, you can also set up the auto theft and auto crash alerts. This seems like a really nice additional feature.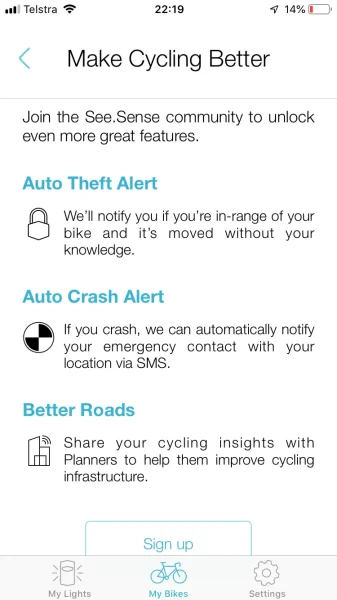 Don't use Strava yet? If not then read our review of how Strava works and the crucial question of can you use it for free?
Fitting the bike lights
Smart is one thing but a more pragmatic issue is secure fitting. While doing the smart bike lights review I spent some time making sure the mounts were right. Which I did not find terribly easy. The lights are attached using mounts and rubber straps which come in the box. The straps are really thin and flimsy though. Having so many in the package did make me wonder if they would snap really easily.  On the plus side, having a variety of different sized straps allowed me to readily swap the lights between my bikes with different sized seat posts and handle bars.
I found trying to attach the smart bike lights really fiddly in and around the cables on the front of my bike. Not so smart. I also struggled to fit them around my puncture repair kit at the back.  The lack of mounting options at the rear is a major downside of the lights.   One of the takeaways from my review of the smart bike lights was the need for a clip mounting option. This would allow you to attach the rear light to a puncture repair kit for commuting and on club rides and a saddle bag or panniers for cycle touring.  When I am cycle touring, pack weight is key. The See.Sense ICON3 smart bike lights would be a great addition to my kit list.  However, without a clip attachment option, I simply wouldn't consider taking them.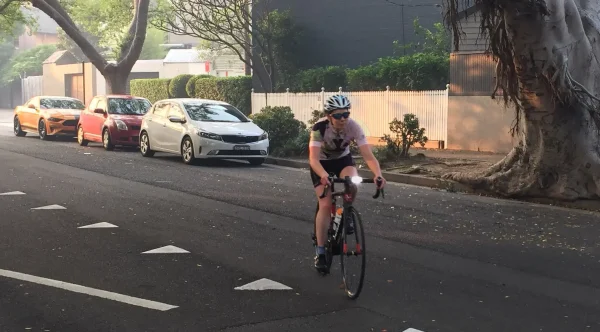 When it comes to clipping the lights into the mounts, there are four notches along the edge of the light which you can choose from. Depending on the angle you want the beam to shine at. Whilst the feature offers flexibility I just wasn't completely convinced by how secure my light would be. Especially on pot hole-filled UK roads. 
Further cycling innovation comes from MiRider. We test the MiRider One folding ebike that is an amazing looking e-Bike quite unlike any other folding bike.
Testing the See.Sense ICON3 smart bike lights
I live in the countryside where you need to ensure that you can both see and be seen. In the dark, I was really impressed with the intensity and variety of the flashing pattern. It really makes you visible to other road users. When I stopped at junctions, the front light really did flash faster and brighter which gave me some confidence. This is the genius of smart bike lights. However on unlit country lanes I felt a lot more vulnerable in terms of my ability to see the route and spot any pot holes, or poor patches of road surface.  The 400 lumens just wasn't as powerful as I am used to riding with at night in winter.  
The other set back was that I'd have to physically stop and switch the light between flashing and constant beam. Or stop, get my phone out and alter the settings via the app.  It made me think I would feel a lot safer running the See.Sense ICON3 smart bike lights alongside another light at the front. With one flashing and one acting as a constant beam for added safety and visibility.
I also had the opportunity to test the lights in the middle of the Australian summer, on dawn rides through the Sydney suburbs. Here it was more about being seen rather than trying to see. I felt this is where the lights came into their own. I was really impressed with them at junctions and around traffic as I really felt like I was visible to other road users. The lights adapted to the surroundings.  My cycling buddy also commented on how effective and bright they were.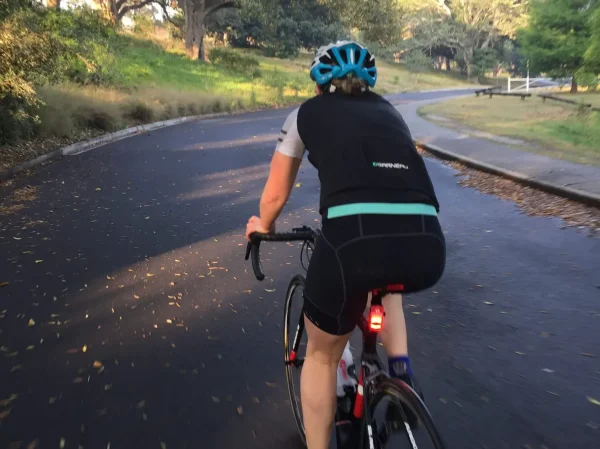 Problems with the See.Sense ICON3 bike lights
I mentioned my doubts about the mounting systems not feeling particularly secure. During the first few rides, the lights held fine in their plastic mounts. I decided my concerns had been unfounded. However, during my final test ride in the city centre, I hit a pot hole in the road and the next thing I heard was something hitting the floor.  My front light had detached from the mount and ended up under a parked car.  Not impressed!
Review Summary of the See.Sense ICON3 smart bike lights
If I only commuted in an urban setting, the See.Sense ICON3 lights are a great option. Yes, there are cheaper lights out there. However, the technology is on another level compared to many other lights and they are really lightweight.  The ability to easily charge them while you are working for example and keep tabs on the battery life via the app is really handy. So, you are unlikely to get stuck without a light on the way to or from work. 
However, given my semi-rural commute, I would probably use the ICON3 alongside another light. This would be to ensure I could see and be seen. I just didn't feel like the front light was bright enough to navigate along country lanes in the middle of winter. 
I was also left really disappointed by the mounting system.  The lack of clip mount is a real con, and given the price, I would expect more robust loops to attach the lights on to the frame.  I would also want to know that the lights weren't going to fly out of the holder if I hit a pot hole.
Video Review of the See.Sense ICON2 bike lights
Hear direct from Helen on her experiences of using the previous version See.Sense ICON2 in her video review.
---
About the Author
---
Follow us on Social Media
---